Being my first map, I've been searching forums and tutorials endlessly for the past week looking for tips, advice, and general how-to stuff.
I've been doing simi-ok on my own learning as I go, but recently I've hit a rather large road block.
I've been trying to make some ring-gate teleporters (atleast I think thats what they were called on Stargate)
Visually I like how it's looking so far, even though I haven't gotten to making my own effects yet.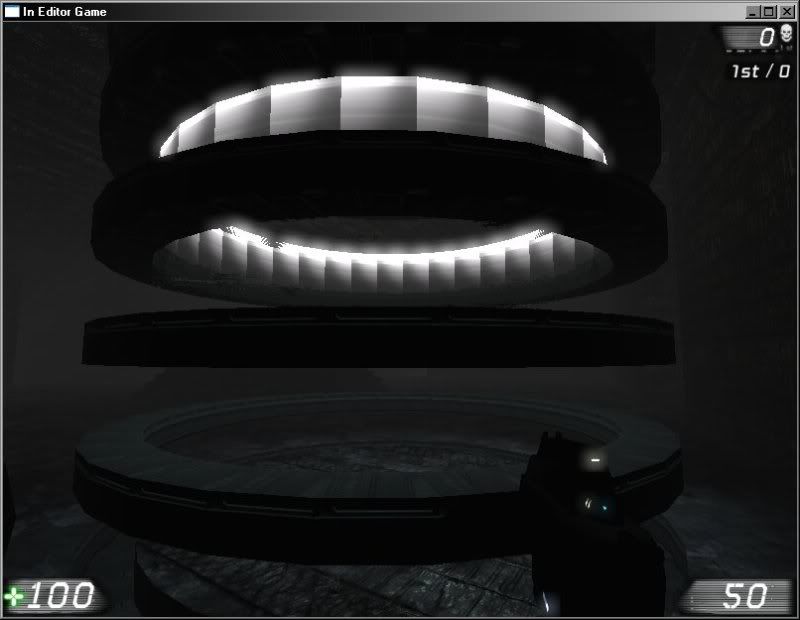 They are intended to function as a 2 way teleporter that can only be triggered from one location. Originally I was going to have them teleport to random other ring-gates, however I'm lacking good destinations for more than 2 sets. I would move some of the stuff to just 1 matinee, but if they can be fixed, I might go ahead and increase the level's size to squeeze a few more ring-gates in.
I have it setup as follows:
One trigger zone will trigger 2 gates. A spotlight is turned on slowly before the rings quickly lift at both gates. (3 second delay from the light matinee to the ring matinee) At the end of the ring matinee, there is a simi-glowing mesh set to collision-touch that rises. Then, the sequence is reversed.
There is also a link to a 6.5 second delay to a remote event.
The remote event goes to the "Open" ends of 2 gate functions, as well as a short delay. The delay then goes to "Close" on those gate functions.
a "Touch" event is attached to each of the simi-glowing mesh, going into the "In" function of a gate. On the "Out" there is another short delay, leading to a teleport that should send the player to a trigger volume at the correct destination ring-gate. (to give the gate action time to be closed)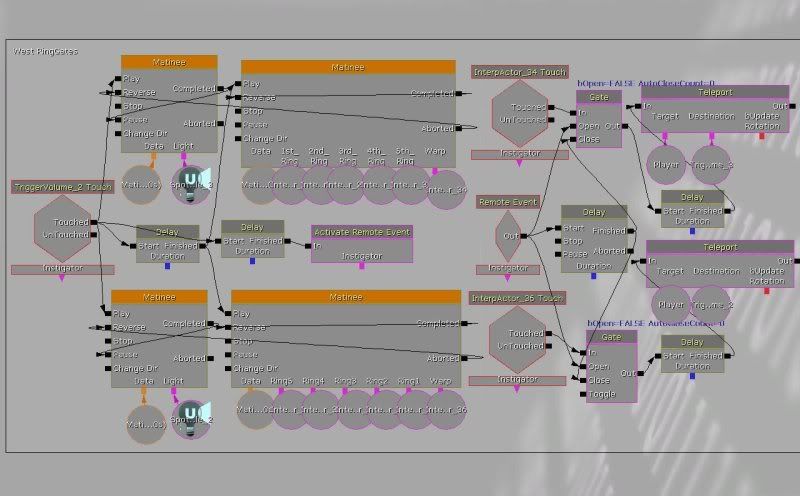 In testing on my own, it seems to work great, however in an actual game if anyone triggers the teleport, everybody on the map gets telefragged. While its somewhat amusing having a "Kill everyone "button , I really would like to have working ring-gates.
I've been fighting with this for the past 2 days, and any help would be greatly appreciated.
also, here is a random look at some of the level.
Sill working on the goo glow though.