Hello Guys,
I've finally got a little bit of time to get my custom vehicle done for UT3. Now I have a lot of questions as vehicle modding is something I haven't done before. Can someone point me in the right dirrection?
Images and description of vehicle below:
The Lachesis prototype is a speedy fighter with a varied array of weapons.
4 machine guns 2 on each weapon wing (the one on the Goliath)
4 Laser Cannons 1 on each weapon wing and omni arms (The necris dark walker lasers)
1 Death piercer Railgun running along the nose of the craft (I'm thinking of the goliath tank shell, not sure on this.)
2 Standard homing rockets one on each weapon wing(wings open to shoot them)
Hitting the "O" key turns on the cloak
Hitting the a bound key of choice performs a scorpion speed boost
Hitting the "?" performs and alpha strike (fires all weapons at once all movement is restricted)
This vehicle should have acces to the a cloak similar to the necris Nightshade.
The ship has two modes each with its own movement and cloak restrictions, the first mode is combat mode (wings fully extended) this gives the player access to the full arsenal of weapons. Players use the wheel to switch between weapons. When in this mode movement functions as follows, turning, strafing and pitch changes are fast and unrestricted, but your frontal and thruster speed is reduced.
Next mode is speed mode (contracted wings) This mode is opposite to combat mode. Frontal thruster speed is increased, all other movement functions decrease. Weapons are also restricted to the Railgun and rockets. This mode is ideal for vehicle sniping therefore the nemesis cloak can be turned on and stays on as long as the player doesn't move (pitch and aiming are exempt from this restriction).
A mutator should be attached to this vehicle to have it replace and existing vehicle in a map, in this mutator you can tweak sereval things such as an unrestricted cloak for more fun:P of it but this is the way I think it will be a a fair vehicle to add. Armour points should be the same as the Cicada and that about wraps it up.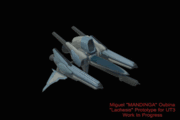 http://i245.photobucket.com/albums/g.../Functions.gif
Thats it, suggestions and feedback guys? Anyone who can help me with this please do I as in the dark on this one.