Name:
Profile Data Exporter
Version:
1.2
Description:
This is a simple addon for UT3 to export all profile data to text files and a JSON file.
Date:
May 30, 2014
Compatibility:
compiled with 2.1. Others not tested.
Size:
~ 421 KB
Comment:
This mutator was written within some days after the
GameSpy patch Info
was announced.
Credits:
Epic Games
Coder:
RattleSN4K3
Profile data:
Friends
Messages
Server favorites
Stats (pure and custom)
Your ranking (pure and custom)
Awards
Character info
Screenshot: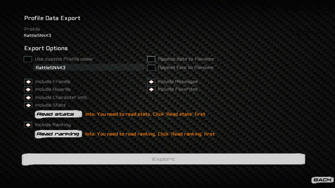 Changelog:
v1.2
Added: Export character info
Added: Append time to filename
Added: Option to use a custom profile name for the filename
Added: Proper messages if export failed
Fixed: Tab index for UI elements
v1.1
Fixed: Bad chars in filenames
Download:
Read the Readme file for more information.
File hashes:
ProfileDataExporter.u
MD5:
34bfe1c515d9a413e12bc3e47c3c5d06
SHA1:
290b967c4b7eab69291aa35465d4678c6ed5fdf4
CRC32:
3e8a2fb8
ProfileDataExporterFrontend.ut3
MD5:
5091d1d9f89758cfe5d116acba3d17ab
SHA1:
c532ba2d42bfe5fed04554123724313d41ab7850
CRC32:
88778257
Older versions:
---
This mutator/script/addons/tool contains no malicious code. You can check the source code. This tool is nothing different than other mutators and has no other accessiblity level like any other mutator. This mutator calls some specific functions of the underlaying online system of UT3 - the menus do the same. You can read the profile data and export these to the profile folder of UT3.
The exported files will be created in this folder:
Code:
%userprofile%\Documents\My Games\Unreal Tournament 3\UTGame\User
After the export, the path is copied to your clipboard. You can simply open up an explorer, paste the copied path and navigate to that folder.
Each profile data will get a separate file with the extension
.txt
. There is a special file which will have the extension
.json
. This file can be parsed be several online services - for instance:
http://chris.photobooks.com/json/default.htm