Name:
Pickup Respawn Tweak
Version:
1.0.5
Description:
Allows to modify the respawn time for various pickups (like weapons, armor, etc.)
Features:
Respawn time adjustment for all pickups
Respawn time adjustment for Weapon Lockers
Clients can check server settings by opening UI
Full net support
Full compatiblity to other mutators
Support for custom pickups (like items, weapons, etc.)
Ingame administration
Configurable via UI scene
Configurable via Ini file
Configurable via WebAdmin
Basic profile support
Demo console command to check tweaks
No replacement of Pawn, PlayerController classes (or anything)
Works for instant action and online games
Date:
October 16, 2014
Compatibility:
NOT TESTED (works in 2.1, could be lower)
Size:
~ 334 KB
Comment:
/
Credits:
Epic Games
,
Neillithan/CaptainFlaccid
(Idea/request),
NovaZzZ
(Idea/request)
Coder:
RattleSN4K3
Screenshots:
| | | |
| --- | --- | --- |
| In-Game client UI | In-Game Admin UI | Config scene |
| WebAdmin interface #1 | WebAdmin interface #2 | WebAdmin interface #3 |
Demonstration (Link):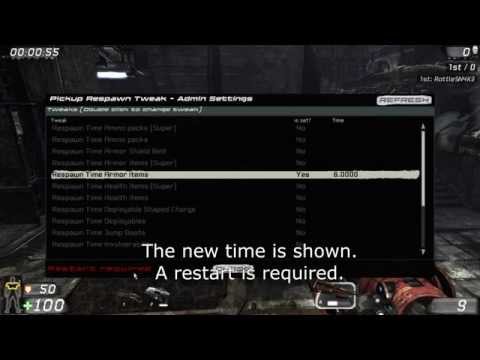 Changelog:
v1.0.5
Added: Config value will get default value back on restore
Fixed: Possible problem with demo console commands with server sided demos
Fixed: Version not shown in settings menu
Fixed: Minor issues
v1.0.4
Fixed: Prevent opening settings in recorded demos (server and client)
Fixed: Zero-Day bug causing chained Linked-RepInfo might being broken
Added: Additional help message for admin settings
Added: Console command for demos to list tweaked settings
v1.0.3
Added: Tweaking of Weapon Locker's respawn time
Added: Ingame administration for admins in the server settings UI (mutate PRT Settings)
Added: Profile support
Changed: Proper Client UI with rescaled labels
Changed: Config name is changed
Fixed: Possible crash when UI is still opened on map change
Fixed: Minor issues
v1.0.2 Fix
Fixed: Respawn tweak does not work for clients if 'Weapon stay' is set
Changed: Property dump not used anymore for Settings scene
v1.0.1 Fix
Fixed: Referencing the development UIScene instead of the embedded UIScene
Fixed: Typos in localization
Download:
PickupRespawnTweak_v1.0.5.zip
(79 KB)
Read the Readme file for more information.
---
Older versions: