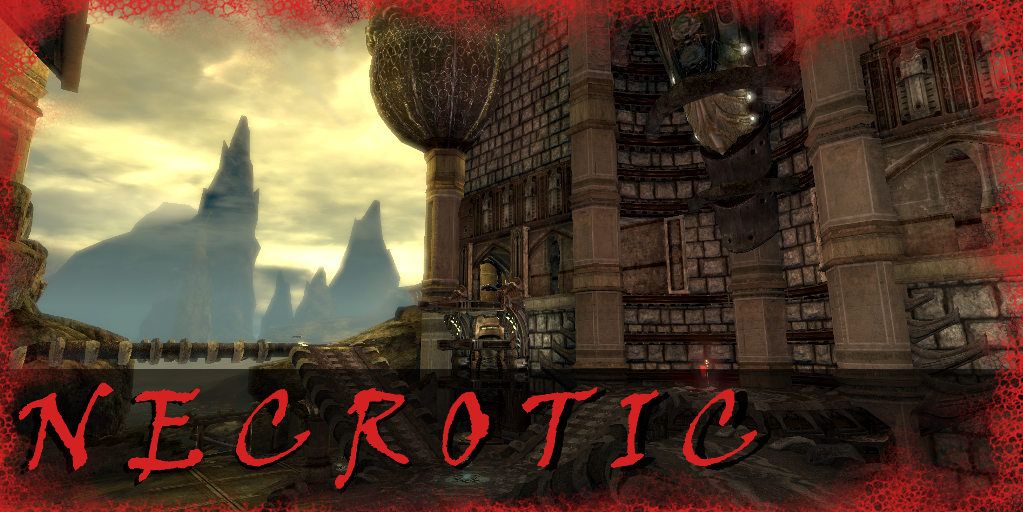 Latest version is FINAL (3.0)
Map playtested on The Last Team
UT3 Server PRO Best Maps (T.L.G.S.E.)
and tweaked for high energy Arena style VCTF.
I wanted to make an arena that is approx ArenaOfJolt or Anarchy size but better looking and with more fun things to do. Also I don't know of any Necris arena maps so here we go!
Flags are on lifts, so you can grab and lift-jump quickly from flagcampers.
There is a special area with SuperHealth, Boots, Invis, and Nightshade. But the special area is not available until at least 5 min into the match. And even then you can only enter the area after players shoot the gate "eye" with 5,000 damage. For every 1,000 damage there are red light indicators so you know how far along you are.
I expect some crazy and fast paced gameplay with this map.
- Map looks good for an arena map
- Map is optimized (culling, reduced lightmaps where needed, collision, etc.)
- Not too big of a file size
- Bots can play it pretty well
Love, tarnationsauce2
Download
16.6MB)
http://www.mapraider.com/maps/?fileid=5901
http://dl.dropbox.com/u/71522349/VCT...otic_FINAL.zip
Thank You for feedback and comments:
.mg.
penpen86
L4WG1V3R
Solarsys
FK_nero
dEliCi0us_Win3
LUCKY-HEART
KCoLa
slibe
UT3_Soldier
Ctrl_Alt_Elite2
rokhustar
my8os
ArGoN`
THE LAST TEAM!
http://www.thelastteam.com/