Name:
Ally McBeal voicepack
Version:
2.1
Compatibility:
Latest patch
Description:
Ally McBeal voicepack
Comments:
This is
the
final release (I hope!). Autotaunts work, however, voicepacks for UT3 still have to be assigned to an existing model in order to function. Hopefully this will be fixed one day. However, I have made one breakthrough regarding the order sounds. This version now also works on Domination maps so delete any older versions including the most recent one I uploaded a few days ago.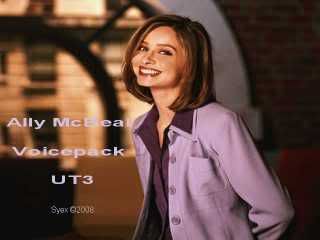 Download:
Now available at Fileplanet
Ally-McBeal-UT3-voicepack-2012 fixed
Syex