Legacy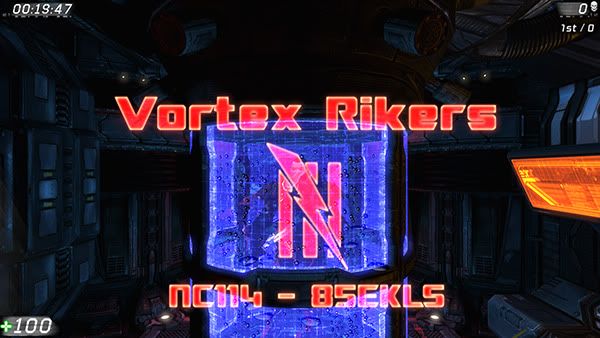 "You've been arrested and sentenced to life imprisonment on a penal colony. But the prison ship has crash landed on an unknown planet... Look around. Crystal clear water shimmers. Shadows shift. Alien architecture fades into the horizon. Godless temples beckon. Darkness falls. You are an uninvited guest in the fastest, sleekest, most dangerous 3D world ever created. Live it. Breathe it. Survive it!"

This thread is dedicated to the 1st map in my Legacy mod. This map is my modernized version of the Vortex Rikers. I've taken the events and layout of the original map and have updated it to modern UT3 standards mixed with my own personal style of hi-tech with strong coloured lighting while attempting to keep the same atmosphere and feel of the original map!
This map includes quite a bit of dynamic lighting, custom textures, scritped events, audio samples from the original game and interactive elements to achieve my goal.
I've included almost all the original diary messages from the original game as hope that this brings back memories to those who remember the original map! I'm only an amatuer mapper so I hope I've done the Vortex Rikers justice with this remake!
I hope you enjoy this small homage to the original Unreal game that has inspired imagination in many games around the world!
For those who like their multiplayer action, I've also created a multiplayer version of this map. The MP version is titled "
Vortex Legacy
" and is part of the
UoF DM Map Pack
. This Deathmatch version contains a modified layout to better suit the gametype!
DOWNLOAD v1.1: MediaFire
DOWNLOAD PS3 v1.1: MediaFire
Play Notes (Read before playing!):
* I recommend playing the original level before trying my version!
*
Choose Deathmatch as the game type then look for 'Legacy'.
*

Set Number of Combatants to 1 and time to atleast 13 minutes!


*

Use the 'e' key to interact with objects!
Green terminals are 'active' terminals!
*

Remember this is a single player level, wander around a look at stuff.
Don't just run through the level as it ruins the experience!
*The Universal Translator messages will dissapear after a short period of time or when you move away from the terminal!
*Try not to get killed...as I don't know what will happen!
*This map is very dark...it's supposed to be!
*Map uses custom music written by my good mate Ben Coutts!
Version 1.1 changes:
*Messages now appear for a lot longer before dissapearing(30 secs), for those who'se native language is not english. Move away from the activated console to turn of quicker.
*Added message at the beginning about the e key!
*Moved one active console!
*Shorter cut of the music track!
*Changed animation of Krall in Air ducts! He now gets away! (thanx Sly)
*Tweaked a few other things! (like the Enforcer pickup)
Requirements:
* UT3 + Patch 2.1 + Titan Pack + UT3DOM version 5 is required to play this map!!

Credits:
*Huge thanx to Juan Pancho Eekels for creating the original Vortex Rikers level. I can still remember the first time I entered the dark, haunting atmosphere of the Vortex Rikers many years ago!
*The UOF mappers/testers for putting up with my somewhat crazy tastes when it comes to lighting and their help and support with making this map! Special thanx to Achernar for his breaking glass effect!!!
*Ben "Baggy" Coutts for writing some superb music to go with this map!
*Epic for the editor & assets and for giving us the original Unreal game that has inspired me to this day!
Additional comments:
The player model arms will appear if you look down. They will dissapear once you pickup a weapon. I cannot fix this bug!
Feedback welcome! Let me know if you'd like to see more of Legacy! You can leave comments here or on the official map thread here!

If you'd prefer something more authentic to the original checkout Sly's work
here
!
Also please annoy Epic and request that they port UT3 into UDK for us!
Also let Epic know that you'd love for them to make an Unreal re-make with a larger scale than the original and with RPG elements! hint hint!! 8D
Legacy WIP thread:
UoF
Screenshots: