After some requests I decided to release a second version of the Death Fan, hope this time you like it more.
This is a remake of a very old map from Unreal Gold Botmatch\MP called DeathFan, I have googled the internet seeking an original description but in vain, so I decided to create my own based on the Unreal world.
Name:
DM-(ITC)DeathFan[V2]
Version:
2.0
Compatibility:
should work with every version of UT3 but you really should use the last version (2.1) for maximum compatibility.
Description:
This map is set in one of the various vertical wind tunnels used to cool the Green Slime (aka Goo) which is the waste product produced by this vast Power-Plant; trusted to give juice to the Countless mines scattered all over the Nali Planet such as Rrajigar; by far the most important mine because of the high profits gained. But after the Liandri takeover of the Skarjj mining corporations several of these wind tunnels were converted into arenas for the Tournament.
Screenshot: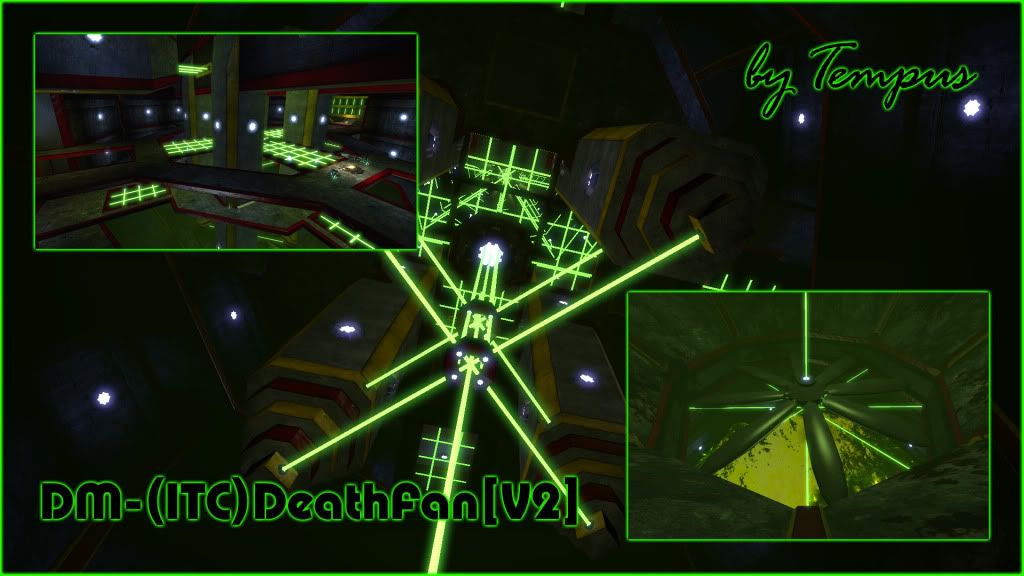 Credits:
Remake of the Unreal DeathFan map for Unreal Tournament 3.
Original Author: Myscha the Sled dog.
The Trim Texture were made by me from source photo I got in CG Textures and made
Seamless in Photoshop, The remaining Materials are retail.
The Fan meshe were modeled by me in 3DsMax.
The Music was taken from Unreal remake for UT2004.
2nd version Changelist:
Got rid of the bloom by simply deleting the post processing volume which was not doing any good to the level in particular.
Tweaked the ambient sounds to fit better the music levels.
Replaced most of the weapons so the map gets a more fast paced
gameplay.
Tweaked the elevators kismet which was a little faulty, also changed the speed of the elevators to fit better on the game play speed.
For last I changed the green neon material a bit so it gets a little less bright.
Homepage:
http://tempusgamedesign.webs.com/
Download:
http://www.mediafire.com/?09gh6sb9230gm1s