Map name:
Aly Second Edition
Game type:
DM / TDM
Version:
1.1
Players:
2 - 6
Requirements:
UT3 + patch 2.1 + Titan Pack
Released:
20 February 2010
Homepage
Story / Histoire:
Long ago, the inhabitants of this quiet & serene place mysteriously disappeared ? The subsequent population reconstruct through the remaining architectures. However, this population also disappeared leaving no clue, no message, no trace ? Nobody has any answer, it suggests that all these people were kidnapped by a unknown higher power, Aliens perhaps ? Welcome to Aly ...
Il y a très longtemps, les habitants de ce lieu tranquille & serein sont mystérieusement disparus ? La population subséquente a reconstruit au travers des architectures en place. Néanmoins, cette population à elle aussi disparue ne laissant aucun indice, aucun message, aucune trace ? Personne n'a de réponse, c'est à croire que toutes ces personnes ont été enlevées pas une force supérieure inconnue, par des Aliens peut-être ? Bienvenue à Aly...
Screenshots:
[screenshot]http://stevelois.files.wordpress.com/2010/02/dm-aly-se-01.jpg[/screenshot] [screenshot]http://stevelois.files.wordpress.com/2010/02/dm-aly-se-02.jpg[/screenshot]
[screenshot]http://stevelois.files.wordpress.com/2010/02/dm-aly-se-03.jpg[/screenshot] [screenshot]http://stevelois.files.wordpress.com/2010/02/dm-aly-se-04.jpg[/screenshot]
Downloads:

PC : Game-Maps, MediaFire, ut-X.net, UTZone.de

PS3 (1.0) : Game-Maps, MediaFire

Video:
(THX to Terror_Force
)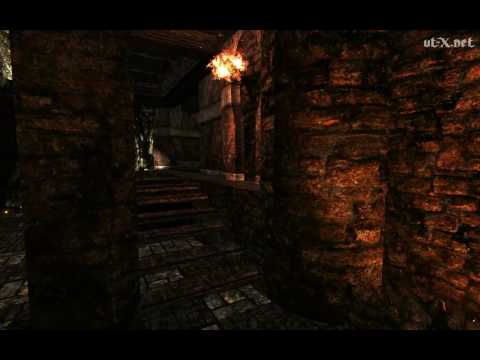 Installation:
Extract the archive into :
"My Documents\My Games\Unreal Tournament 3\UTGame\Published\CookedPC\CustomMaps" directory. If this folder is not currently on your system, you can safely create it. The archive contains :
DM-Aly-SE.ini
DM-Aly-SE.txt
DM-Aly-SE.ut3
DM-Aly-SE_LOC_int.upk
What as been done for final 1.1:
. Tweak culling & collisions values on big rocks outside the play area.
. Tweak lightning in general. It's more blueish than before & also change some settings on mesh / materials.
. Tweak postprocessing effect of the map in general (Bloom, DOF, etc).
. Tweak fog & sun flare.
. Tweak music settings.
. Tweak water postprocessing volume (Udamage pool & deadly waterfall).
. Add blocking volume near the Sniper, the Stinger, the Shock, the lift near the helmet & from the RL weapon base location to the helmet to enhance flow.
. Add custom barrels & other visual stuff.
. Remove all lanterns & replace them with torches / torches holders since they're more appropriate than lanterns & all torches as there own fire sound & will inflict 5 points of damage (the big bunch of very hot wood near the waterfall inflict 20 points of damage). There isn't as many torches as the NE version. Only half of them to add some colors / contrast.
. Remove the glass on the floor in the RL building so you can shoot trough.
. Open up the small wall near the Bio to enhance gameplay.
. Replace stock jumpad (the default one as a default sound) with the 'mute' one (no default ambient sound).
. Enhance the surrounding water material.
. Redone all pickups placement except the Udamage & 2 vials.
. Redone sky dome material.
. Redone preview screen.
Comments:
Aly is my third map. Since the 2 previous one took me months to build, I wanted to make a simple & nice atmospheric map with just a bit of deco. No complicated mesh work & such, just the minimum to make it look, sound & feel pleasing. I made the 'NE' (Night Edition) & the 'NE FPS' after the day version. I wasn't satisfied with the first day release (1.0) but after working on the NE versions, I decide to rework on the day version & publish this SE by enhancing this & that. Since I was had it, I made drastic pickup changes to bring to the SE a completely new gameplay. I'm getting a minimum of 75 FPS playing against 3 bots with my rig in 1680x1050 everything set to max.
OCZ 600 Watt
Asus P5N-D (NF750i)
Intel Core 2 Duo E8400 (3.0 GHz/1333/6M)
4 GB OCZ Reaper (DDR2 800 Mhz CAS 3.4.4.15)
Saphire Radeon HD4870 1 GB with Catalyst 9.12
Segeate 500 GB 32 MB
WinXP SP3 with all latest updates
Custom content:
The music track, edited by me.