Name:
CTF-Magma_Redux
Version:
Final (There were a limited number of minor changed from the beta2 version)
Compatibility:
UT3 PC v2.1 (I have not tested this with any prior versions, but it should work correctly)
Description:
My third map, this is a conversion of the UT2k3 CTF stage Magma.
Exported meshes from ut2k4, uv unwrapped and created coordinates for the second channel. Repainted vertices where necessary. Imported into ut3 and created many new materials and particle systems.
This is really meant to be played with the translocator as there are quite a few areas to hop to and from. Bots tend to work quite well and only turn into idiots on rare occasions. Luckily there are plenty of areas for them to kill themselves and reset, so it's short-lived.
It was tested thoroughly, but if any game-stopping issues survived, please let me know and i'll fix them ASAP.
Comments:
Changes and additions to the original:
Added many new emissive glowing lava & magma materials.
Many new particle systems for spewing lava, smoke, & gurgling magma bubbles.
New background image (thanks to Karatemaster for risking his life getting some nice volcano pictures!)
Heat distortion in & above the volcano.
UT3 textures on the rocks & meshes for faster performance.
Several added power-ups (a couple in secret or hard to reach locations).
Custom projectile globs of magma shooting out of volcano! Careful, they hurt. Yes, it's dangerous...It is a volcano, after all.
Overall red haziness.
Darkened the level considerably for a more sinister atmosphere.
Tweaked some weapon placements from 2k3 version.
Random earthquake tremors.
Floaty rocks in magma swells.
Embers falling from the sky that turn to ash.
Swapped out elevator for jumppad in each base for faster gameplay.
Translocator damage. If your translocator disk is damaged too much by lava (UTLavaVolumes), it breaks and you can't recall it. Teleporting to it will kill you. So watch where you're throwing that thing!
IMPORTANT NOTE: You MUST install the scripts and additional upk with this map for the lava projectiles! This stage will not work properly without them! Refer to the readme in the RAR for instructions, or simply extract the file to your C:\Users\[name]\Documents\My Games\Unreal Tournament 3\ folder.
Screenshot: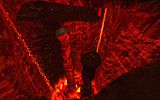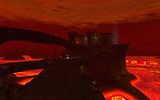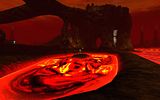 Credits:
Epic for the great original map & providing us this editor! Karatemaster for texture work, testing, and conceptual ideas. Moo for testing and conceptual ideas. Xaebo for testing. Hourences for tutorials once again. This community for posting so many helpful tips and advice for noobs like me. Filterforge for the magma texture.
Download:
ctf-magma_redux
/
BR coming soon