Name:
BR_Mosque + CTF_Mosque
Version:
1.0
Compatibility:
UT3 patch 4 or greater, Bombing Run Mod v3.1 or greater (
http://www.relicsut.com/ut3br.htm
)
Description:
This is an extremely large (32+ players) indoor/outdoor Bombing Run map, with a strong Arabic/Islamic architecture theme. It was created with the idea of presenting complex material examples and even offers some reusable skeletal mesh components to other map makers. However, it is first and formost a challanging and exciting map to play.
Comments:
The CTF version is included, but you still must have the Bombing Run mod installed to play the CTF map. This is because the CTF map uses some UTBRPathNodes (in "dumb" mode, i.e., without routes) left over from the Bombing Run map. The map was originally designed to be a Bombing Run map, and converting all the UTBRPathNodes to ordinary PathNodes was too difficult and tedious to be worth the effort for a CTF map which will seldom be played. Both maps require FIVE MINUTES MINIMUM to load the FIRST time (and only the first time) they are loaded. Subsequently they load quickly, especially for their size. I believe these are the largest maps ever created for UT3, if anyone knows that to be false I would appreciate receiving a message pointing the author to any maps which are larger. Also, please report any problems to this forum, or send the author a personal message.
Screenshot: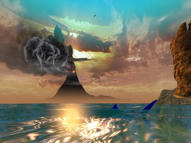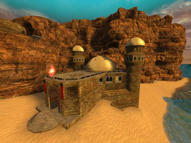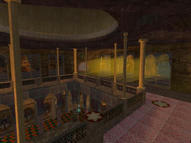 Credits:
Thanks to W@rhead and the folks at The Reliquary.
Homepage:
None
Download:
http://www.gamefront.com/files/20029337/UT3Mosque_zip