Name:
Liandri Domestic Robot
Version:
MkI
Compatibility:
Unreal Tournament III v2.0 PC
Description:
It is believed that during a recent Tournament, at the Carbon Fire factory, one of the contestants uploaded a virus into the XV-50L production mainframe. This malicious program activated all the dormant units after re-writing their baseline code. It was absolute chaos. Ratings were off the charts.
This mainframe is also responsible for any unit software upgrades required by the end consumer, thus several hundred units in field were also affected. Many of these rogue robots are still malfunctioning across the quadrant.
Comments:
I'm going to revisit my older character project with some new skills, but I felt my UT abilities were a little rusty. I have not been in the editor in about a year. So this is the result. Model and base texture taken from the Carbon Fire map. The model has been re-scaled and UV adjusted to fit the skeleton and material sectors.
Team skins are working.
Uses the Liandri faction for voice, gibs, and FPV arms.
Drag and drop the folder out of the .zip
Screenshot: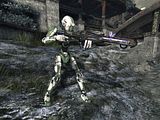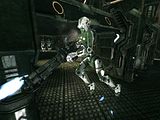 Credits:
Epic Studio, GeoDav, and Myself
Download:
Filefront