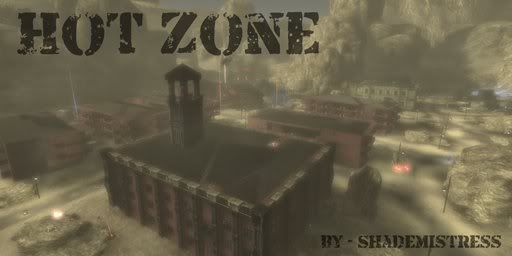 Name:
WAR-HotZone
Version:
Final!!! v2.0
Compatibility:
UT3 v1.3 (should work with previous versions) PC only until I get the PS3 version cooked...
Description:
"A lone training camp stands forgotten at the ends of a deadly mountain pass. Ronin forces are bustling to secure the facility for special operations when a Necris tactical squad arrives and sabatoges a power core and nearby vehicle factories. Only sound tactics, stealth, and skillful use of your resources will win the base back, or doom it to the hands of the Necris threat."
I set out to make a tactical play map that would provide players with a vast assortment of paths to follow and less linear gameplay. So, to accomplish this, I decided to allow players access to ANY part of the playable map... every single room in every building, including the rooftops, is playable area and can be used for deadly strategic advantage.
I also wanted to make a map that wasn't completely symmetrical, yet still remained balanced. So, pickups are relatively equivalent throughout, with a few exceptions like the Redeemer and Shield Belt...
Many areas are also hiding pickups, some much harder to get to than others.
Known Bugs:
- No real "BUGS" but some odd bot behavior can take place at times. One of the worst being that the bots like to leave vehicles piled up in some really dumb spots and tend to block the roads. Shouldn't be a problem with human players.
Screenshot:
(no new screens, I think these convey the overall feel of the map well enough)
[shot]http://i134.photobucket.com/albums/q117/hottingoth/ScreenShot00017-5.jpg[/shot][shot]http://i134.photobucket.com/albums/q117/hottingoth/ScreenShot00018-7.jpg[/shot]
[shot]http://i134.photobucket.com/albums/q117/hottingoth/ScreenShot00019-6.jpg[/shot][shot]http://i134.photobucket.com/albums/q117/hottingoth/ScreenShot00020-3.jpg[/shot]
[shot]http://i134.photobucket.com/albums/q117/hottingoth/ScreenShot00021-4.jpg[/shot][shot]http://i134.photobucket.com/albums/q117/hottingoth/ScreenShot00022-4.jpg[/shot]
Credits:
Epic, (BCLAGGE for helping me optimize and make this map look and play smooth, even decent on my low-end rig) and Myself (Custom Materials, some Custom Meshes, a lot of BSP, some Recolored Epic Texture Samples, and the overall layout)
Download: