1.
DM-Carnage Cathedral SE
2. Version.
Final 1.0
3. Compatibility.
UT3 Version 2.1
4. Description.
A medium/large sized deathmatch/ domination map. 14 room, 3 floored, abandoned cathedral set at night with glass spires & stained glass letting in the moonlight and flame torches lighting up where the moonlight doesnt reach
5.Comments.
Please note: Mininmum recommended players 8.
Carnage Cathedral SE isnt about re-inventing the wheel, it's more about a few enhancements to the original version. (Full Details in Changelog)
The Cathedral has 3 floors. Mid floor consists of 2 rooms, corridors and a catwalk thru the central room (pic1). 3rd floor is a large room the size of bottom floor central room, with a large round hole in the centre. This is my first map for any video game, and Im so glad its for UT! XD This map contains a lot of custom sounds and textures/materials, but unfortunately no custom models as Im a beginner. Construction took about 3 of the 6 months it was in beta forums, but a lot of that time was spent learning or fixing my many mistakes.
6. Screenshots.
(Still from Orig. Carnage Cathedral will upload new pics soon)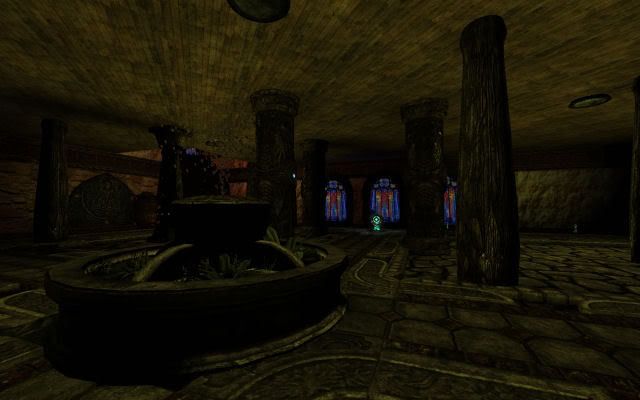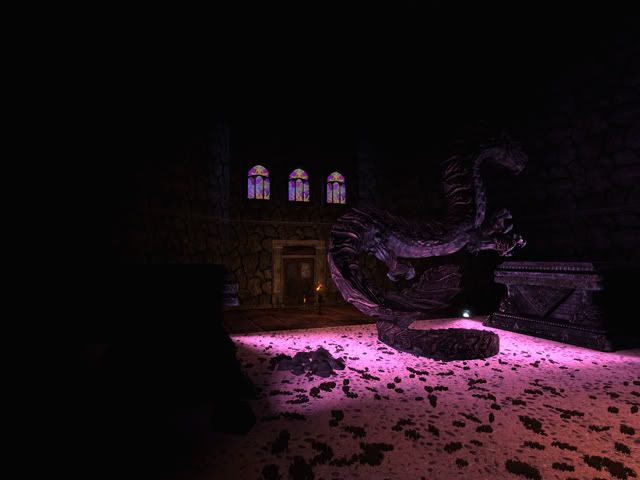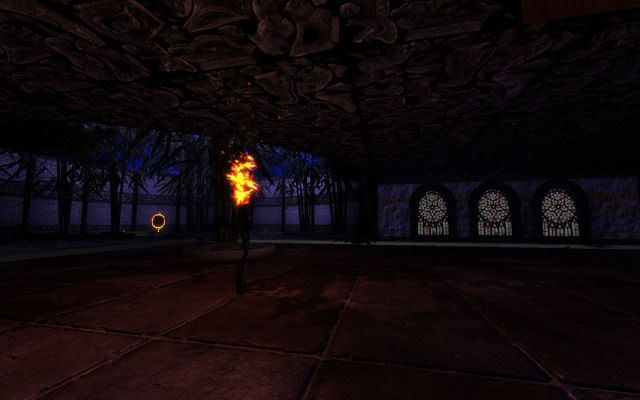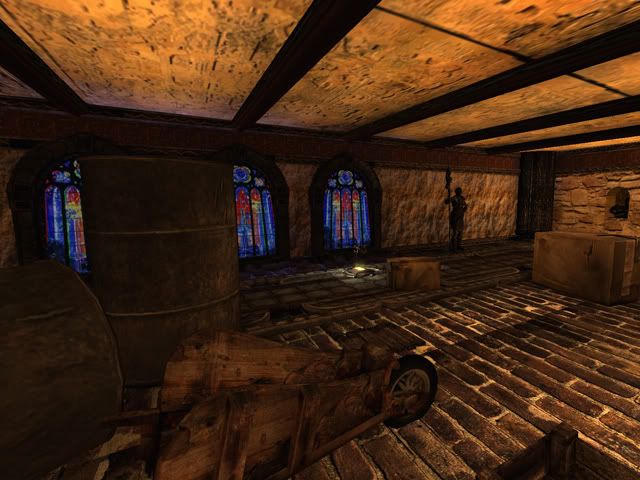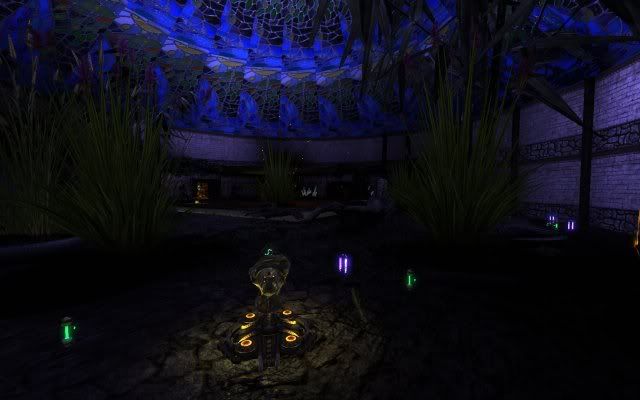 7.Credits.
FragTastic, Epic Games, AussieUT3 clan and my girlfriend (for neglecting her lol)
Tech assistance: Greenday_584 could not have been more helpful and is very gratefully thanked. These other epic board members have been so kind as to help me get through this project which at times was obviously above my abilities: Mojonick, DGUnreal, VinnieMC, ffejnosliw, ShadeMistress, Sonic Wallpaper, Lord_Porksword
Useful Feedback and or Encouragement: hydrophillic, Hazard2Health, Nathan_B, Chaaaaaaaalie, Nero25, xViperAKx, karmapolice, kev_boy, xfuture, riftvalley, The Demon Slick and more than anybody the infallible freaky1 who helped immensely, repeatedly and promptly always on this project. You are the man ;D
Thank you to all the above.
8.
This map is a vagrant and has no homepage :P
9. Download links
[PC]
Deathmatch
Download DM-Carnage_Cathedral_SE on Filefront
Download DM-Carnage_Cathedral_SE on Mediafire
41 MB -Contains moving strobing lights that give the firelight a lot of atmosphere but comes with a framerate hit. Better suited to QuadCores
Download DM-Carnage_Cathedral_SE_FPS on Filefront
Download DM-Carnage_Cathedral_SE_FPS on Mediafire
41 MB - No moving lights in this version, not as pretty but kinder framerates
Better Suited to DuoCores.
9. Download link
[PS3]
on filefront
Deathmatch
Download DM-Carnage_Cathedral-PS3 Final 1.0
25 MB .zip archive. Converted from PC FPS final
10. Playnotes
-Shield belts reachable with jumpboots on catwalk in central chamber or with a rocket jump
-Teleporters warp to diagonally opposite corner spires
-Map has item/ weapon heavy layout for rapid kill/die/re-arm/kill mayhem
-24 playerstarts included
11. Changelog
DM-Carnage_Cathedral_SE
Changes Completed from Orig. Carnage Cathedral
-Mesh Culling volume added improving performance
-All normal maps for textures remade properly (originals hand made)
-Changed a couple of textures
-Changed a couple of meshes
-Projector lights added to bring light from stained glass domes down onto floor
-Some lighting tweaks
-Removal of map music
DM-Carnage_Cathedral
(copied from beta forum so pic references no longer valid)
Changes completed from RC2
-Replaced windows on 2 ground floor rooms
-Updated map pic
-Added some new mapstingers
-Redid fountain emitter and water material for better water effect
-Upgraded bot pathing
-Installed dragon statue alcoves in 2 rooms.
-Replaced all dome spires materials with a custom stained glass material
-Replaced Third floor windows with a custom stained glass material
-Added/modified more deco meshing
-Added foliage volumes in various locations
-Moved Flak cannon and link gun and their ammo in collumned rooms across rooms (towards corner spires)
-Realigned a few materials
-Tweaked mystic orb material
-Changed a couple of ceiling materials
-Added a few health vials to 3rd floor (to increase bot motivation to go there)
-Minor movement of one teleporter to stop clashing with foliage volume (wierd visuals)
-Replaced dragon neon signs with other deco (didnt fit in with rest of level IMO)
Changes completed from RC1
-15 of 26 strobing/moving lights deleted (showing +50% framerate improvement on my PC) This has wiped out these lights from the mid level but has little effect elsewhere through a consolidation approach
-Fountain emitters rebuilt again. Emitters, textures and materials have changed names, to try and wipe out server redirect problem
-Stray mesh in wall corner room deleted
Changes completed from Beta 6
-Seperate package removed- 7 MB saved (most of that already gobbled back up by added meshes lol)
-fixed emitter LOD's (had to rebuild em all from scratch meh :/ ) -2nd stage FPS overhaul
-Added marble texture in central chamber to a tile as i did not like the way it appeared on BSP
-Added floor trim to central chamber and 4 other lower floor rooms
-Made up and distributed mystic orbs throughout level
-Added more meshing (roof rafters, statues etc.)
-Changed material on top of central podium,
-Tweaked fountain (higher water dispersal, more rapid falling, water added to base of fountain, custom water material built)
-Added trim to round areas
-4 corner rooms wall meshing (all rooms done now)
-Removed or adjusted a few stray meshes
-Finished corridor architraves (was 2 remaining)
-Added fireflys in five locations
-Added fountain river and fire sound and distributed to appropriate locations
-Lowered music volume (but still stuck on ambient :/ )
-Changed music
-Raised roof in 4 corner rooms by 32uu (to stop windows not fitting)
-4 Teleports added in corner spires (warp to diagonally opposite corner)
Changes completed from Beta 5
-1st FPS overhaul
-Constructed arch shaped window frames and replaced all square window frames with these.
-Adding architraves 10 rooms 4 corridors (remaining 4 rooms and a couple of corridors to do)
-Lighting Overhaul
-Fixed and raised water in corner trenches
-Put together a fountain in both pillar rooms (still needs a little work)
-tweak bot pathing storage room and 3rd level stairs (again lol)
-Re-align cieling rafters central chamber
-Covered lights on 4 doorframes with meshes ( I felt they looked out of place)
(Short update list but some necessary changes made)
Changes completed from Beta 4
-Map preview pic
-Map description added
-Map Music Added
-Killsound added
-BSP added to middle of silver collumns as they appear to be a no collison model and collision adjustments to the mesh do not have any effect
-More static meshing added
-Water added to corner trenches
-Entry door Added
-Extensive retexturing in mainly fully imported custom textures including floors/walls/ceilings/windows about 75% of surfaces, normal maps created for all imported texture made materials & specular for some.
-static bulb installed for each flame torch, for those who use level 1 settings
-constructed and installed custom stained glass windows and many other custom wall/floor/static mesh materials
-Added door trims, 4 large structural collumns, some general decorative meshing
-tweaked bot pathing partic round stairs and logs
-Reduced moonlight around catwalk (hangover from lower roof earlier betas)
-Map now server compatible
Changes completed from Beta 3
-
-Middle and top floors added with spiral staircase, lighting & static meshes added both these floors
-Fixed problem with collision of weapons fire with reeds central room.
-Changed 10 doorways in central room to archways
-Raising of roof (6 rooms) and upsizing/ culling of pillars
-Materials and items laid for 2nd and 3rd floors (4x curved staircases- 2 per floor)
-Few lighting tweaks
-Some materials changed
-Removed some collumns, remainder upsized 25%
-Finished lighting all floors
-Installed windows all floors
-Raised roof room in pic#9
-Flame torches added to central room and level 3
-Full bot support (finally lol)
Changes completed from Beta 2
- 10 "flame torches" added 4 in 4 corner spires, 2 in dragon statue room, 4 in room in pic9 (worklights also removed)
- More moonlight added in darker corners 4 corner spires
- Addition of a couple of crystal meshes
- light fittings put in rocket room and four corner green downlights (though still not sure about the choice of fitting
(Realize this is a short changelist but was running out of letters to put after beta2 in inbetween cook saves lol. Due to having mega dramas with the my first adventure in emmiters/ moving lighting. Also feel that the flametorches have added a lot to the atmosphere and wanted to push out improved product)
_
Changes completed from Beta 1
- Trenches dug in all 4 corner rooms, to require jumping into spired areas (EG pics 8&5)(minor foilage changes to accomodate this) health vials added to trenches
- New material selected for floors all 4 corner rooms to break up monotony (EG pic 7&5)
- + shaped raised level in centre of room (pic 9)to encourage jumping & a wider range of tactics (can duck for cover or jump over)
- removed flak cannon centre room, switched stinger ammo to its location (located diagonally across podium(pic 1)
- moved flak cannon (1 of 2) from collumned room to storage room (pic4) added some more boxes to this room
- moved collums in 2 collumned rooms a little.
- tweaked lighting rocket room (better whole room illumination)
Other Info
Recommended Player count 8-16 (largish map) This map I personally have always playtested right from beta1 mainly with 12 bots, DM-8 is for those that like a bit of a stroll, 12 feels about right, 16 is for those that like it hot. TDM rating 12-20 players (mainly playtested with TDM4 using catalyst's UT Multi team alpha mod)
Hope everyone enjoys my map =) Happy Fragging