Here's the latest version of my space map 'Orbital Deconstruction'!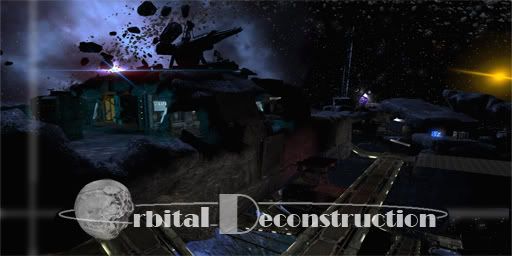 "The Liandri foothold in sector 38 has been lost. Unable to keep the Krall infestation at bay, the Liandri have fled the system retreating to a neighbouring star sector. With their forward defence post decimated and stripped by the advancing Krall hive, the last evidence of their occupation is a sole crumbling orbital defence platform stranded amongst the local debris cloud. Scavengers now fight over the remaining technology despite constant bombardment from the local asteroid population which is slowly rendering the last evidence of the Liandri occupation to all but a memory..."
A mix of normal and low grav with some big booms thrown in for flavour!
Map has full bot support and is setup for DM and TDM. I have also included Duel in the event anyone wanted it.
I recommend a dual core processor for this level as it can get a bit chunky on single cores!
Screenies in this thread;
http://forums.epicgames.com/showthre...0#post25229010
DOM VERSION info;
DOM link down atm pending new version out sometime hopefully soon.

VERSION 2b info;
Major cull distance modification on most meshes to improve framerate!! Some pickup, jump pad and lift changes made as well!
PC Version 2b;
MediaFire
PS3 Version 2b;
http://www.filefactory.com/file/af32...conV2b-PS3_rar
PC Version 1.3;
MediaFire
PS3 Version 1.3;
Link Down!