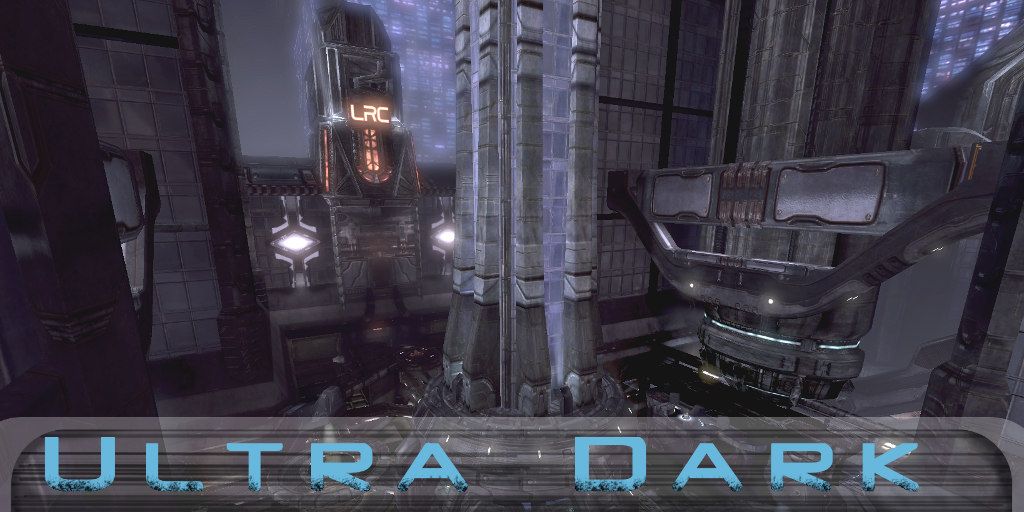 DOWNLOAD: https://dl.dropboxusercontent.com/u/...traDark_B3.zip
This map is
Dark
as the name suggests. You can use the darkness to your advantage or it can hinder you as well.
Here is the ReadMe:
Note: Please check for newer version before loading on your server!
Please report map issues to me and help make this map better!
Collision bugs.
Display issues.
Things that look ugly.
Performance issues.
Oddities.
Bugs.
Annoyances.
Item placement.
Flow issues.
Music.
Etc..
Change log:
B1
- Initial release
B2
- Fixed some meshes not showing in Low detail
- Made UltraDark pickup give green light that only the player that grabbed pickup can see.
B2a
- Rebuilt lighting.
B2b
- Fixed timing on UltraDark powerup (was set for testing).
B2c
- Fixed UltraDark powerup light not turning off on on-line games.
- Added emitter for UltraDark powerup.
- Tweaked Playerstarts
- Bot path tweaks
- Added ScreenShot texture & ini file
B3
- Made map much brighter overall.
- Added guard rails by sniper spots.
- Changed Kegs of Health for Vest Armor.
- Less health vials on center structure.
- Added some clouds.
- Added color and lift indicators.
- UltraDark pickup now covers the player in a dark orb.
- Optimized some collision.
- Opened the holes to the lower area so you can jump through more easily.
- Fixed music so players can change the music volume.
- Vehicle blocking in lower areas.
- Walkways have more team color saturation.
- Added jumppad in crates to lead to the area by Manta.
- Center lifts tweaked.
- Helmet crate is a bit smaller so it is easier to hoverboard jump onto.
- Fixed blocking on side "Dance Floors".
- Center area color tweaked and brightness of center materials change when pickup available.
- UltraDark pickup grabbed explosion causes more damage to surrounding enemies.
- Misc minor changes with texturing and lighting.
================================================== ===============
Description:
UltraDark has many unique features. Here is a list:
- The UltraDark pickup that float at the middle of the map. This is what the pickup does: It spawns a light around you making it easier for you to see. There is a dark orb that will surround you making you more difficult to kill in the darkness. It also makes everything turn dark in the map - except for you. Everything does not get dark.
- The vehicles have working projector headlights.
- There are hallways with green lasers that when you break the laser you turn on a light in the hall.
- There are some areas where the floor tiles light up when you walk on them, much like Michael Jackson's Billie Jean video.
- The lifts in the bases have a button by them. When you press the button long enough (or shoot the button with AVRIL), the lifts will charge up and go at turbo speed.
- The lifts in the bases have sloped ceilings above them. When you liftjump and the lift is turbo speed, you can launch very far by sliding your head off the roof.
- When you grab a flag the light above them turns off, and the flag light is darkened.
- There is a video monitor behind each flag. When you view the monitor your view switches to a camera above your base, or if your flag is taken the camera follows the flag wherever it goes.
- Many escape routes and many places for hammer jumps.
- Bases are designed so camping with vehicles is greatly reduced. Vehicles are better suited to infiltrate enemy base, and supporting flag carriers.
Music track list:
Trifonic - Parks on Fire (Hybrids Soundsystem Mix)
Hybrid - Keep it in the family
Extinction Charlie Clouser - Convoy (Remix)
Apocalyptica - Ion
NIN - The Line Begins To Blur
The Prodigy - Omen
Until next time.
-tarnationsauce2
Thanks:
The Last Team!
.mg.
penpen86
Solarsys
NickG
L4WG1V3R
my8os
Joeaccord
Epic Games
Here is a test video showing off some of the map features: