Name:
DM-Hades' Pit
Version:
0.9 Beta 2
Compatibility:
UT3 v2.1 (gold version from Steam if that matters)
Description:
Remake of a Doom II map I made a long time ago.
No "story" just old style LAN-party deathmatch carnage
.
Comments:
I don't think this map is "balanced" or "fair" by todays standards, but was fun with Doom II.
There are hidden doors that need to be opened by pressing the "Use" key
Screenshot: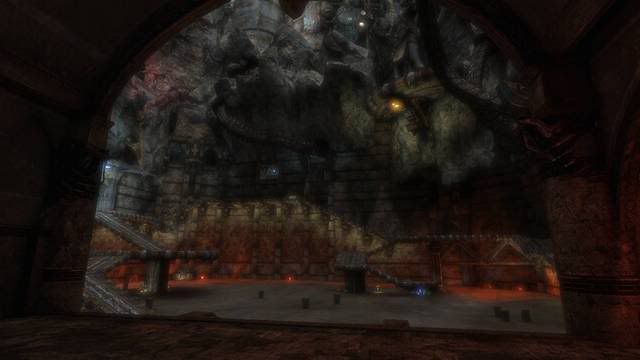 Additional High-res screenshots can be found here:
http://s1218.photobucket.com/albums/...UT3-Hades_Pit/
Credits:
Eldraad: The Exploding Barrels are based on a Kismet network found at the following forum post:
http://utforums.epicgames.com/showth...hlight=eldraad
Homepage:
Download:
Link to Final Version Thread
Beta Info:
Have only tested this with bots and considering I get thrashed by a few bots on novice I'd like some gameplay feedback from people that tested against other players.
This is also my first DM map for any unreal engine game (done Gears and Borderlands maps) so not sure about the amount of pickups or their placement. So some feedback on that would be nice aswell.
Have placed some ambient sounds, have tried to balance the sound levels somewhat, however my hearing is not good so not sure if it might bee too loud.
The music is hard coded as an ambient non attenuated sound. If there are too many complaints about that I will replace it with some of the canned music arrangements.
Fixes beta 2:
Various grapic glitches, misaligned meshes, CSG brushes and textures.
Added/changed some blockingvolumes.
Bots use of elevator is working better, not 100% sure if it won't break under some circumstances.
Removed alot of health/armour pickup's.
Removed all the deployable pickups.
Added visual que to the exploding barrels, might make a new texture if it's really needed.
Reduced the DoF slightly.
Reverted to vertex lighting for static meshes and increased sample size for CSG surfaces, seems some people using 300 baud modems still...
Thanks in advance.