Name:
JC Denton model + voicepack
Version:
beta2
Compatibility:
any PC version (tested only with 2.1) (PS3 version not planned)
Description:
Deus Ex main character scratch made for UT3
Comments:
The project is frozen, so this version is the best you can expect unless someone takes over all the assets from me.
Screenshot: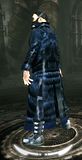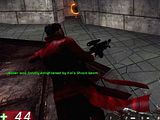 Credits:
made by me + texture artist who would help me
Download:
JC Denton for UT3 (beta2)
(cooked version - 3,6MB)
Status for beta 2:
Model
- working fine in-game
All high-rez meshes -
Done
(still testing)
Physics -
93%
(custom made with new trench coat bones, ragdoll still needs a bit of work)
LOD meshes -
99%
Done (testing)
1P arms - I am not making this. I tried, the Epic's arm rig sucks, so arms are not coming.
Voicepack
-
100% Done
(from Deus Ex JC Denton samples)
Textures
-
20%
ready (rough diffuse maps, some details)
Materials -
97%
Done (some problems with alpha hair)
Team colors -
working
All texture mapping -
Done
(also UV mapping and Shademaps have been rendered)
Diffuse maps -
20%
Normal maps and specular -
15%
- Help would be welcome, otherwise I can filter something out from diffuse
faction/character pics - % - something made, but could be changed to much better
+ about 100 reference pictures available for everything related to JC Denton and texture details
Scripts
-
Done
(faction, preview pics, English descriptions)
Full SDK
(for extra parts, own textures, derivatives or anything) -
will be available
with the release version of JC Denton model
Older beta1 screenshots: