Welcome to the third Renegade X release version. Renegade X is
the
Command & Conquer mod for Unreal Tournament 3 and, as promised, we opened the doors of our 0.35 beta to the public on September 30th. Since then, we've released the 0.36 beta, and
today
we are opening our doors to the third phase of Renegade X.
The 0.40 beta is now available!
Download the Renegade X 0.40 build today!
Renegade-X.com Mirror
:
http://renegade-x.com/Staff/RenegadeX_Beta_v040.exe
Borgamers Mirror
:
http://borgamers.com/RenX/RenegadeX_Beta_v040.exe
TORRENT
:
http://www.renegade-x.com/RenX/Reneg...a_v040.torrent
IMPORTANT NOTE!!!!:
You do
NOT
need
any
previous version of Renegade X to play the 0.40 beta! It is a totally new build, and it doesn't depend on any older betas or patches.
If you would like to play Renegade X version 0.40
, it is important that you consider the following:
1. You must have a legal copy of Unreal Tournament 3.
If you don't have it yet, it can be found for extremely reasonable prices on Steam and most game stores.
2. You must have the latest Unreal Tournament 3 patch applied to your game.
If you have UT3, and have not yet patched it with the latest UT3 patch, then please download it here:
http://udn.epicgames.com/Files/UT3/UT3patch5.exe
NOTE: If you bought the Unreal Tournament 3 Black Edition from Steam you do NOT need this patch (it's already included).
3. You must remove any previous versions of Renegade X from your computer.
Go to your "My Documents\My Games\Unreal Tournament 3" folder, and
delete the "Renegade"
folder before you install Renegade X 0.40.
4. Download the Renegade X 0.40 beta
.
5. Run the installation
to fully install this version of Renegade X.
6. Create a shortcut to the mod.
If you are unable to launch the Frontend (Server Client) application, the reason is because you do not have .NET frame work 3.5 installed. However, you can still run the mod by creating an Unreal Tournament 3 shortcut, and in the Properties target line, simply add " -mod=..\Renegade -solomod" minus the quotes at the end.
Playing the mod in "Instant Action"
also requires this same short cut.
Renegade X 0.40 Changelist
Below is a link to the current changelist from the 0.36 to 0.40 builds. Notable changes include the new radio command system, a new map, a new infantry class, and oh so much more. Check it out!
http://borgamers.com/RenX/RenX%20ChangeList.htm
Renegade X November Launch Trailer!
It's been a while since we've released an epic gameplay trailer. This short 1 minute and 18 second trailer sums up the action and excitement that is Renegade X. What are you waiting for?!?!
Mirrors
:
Streaming:
ModDB
(Recommended):
http://www.moddb.com/mods/renegade-x/video...railer#imagebox
YouTube
:
http://www.youtube.com/watch?v=x8F1rVasH1U
HD
(Recommended):
http://www.renegade-x.com/RenX/RenX_...Trailer_HD.avi
HD
(Recommended):
http://borgamers.com/RenX/RenX_Nov_LaunchTrailer_HD.avi
SD
:
http://www.renegade-x.com/RenX/RenX_Nov_La...Trailer_SD.avii
SD
:
http://borgamers.com/RenX/RenX_Nov_LaunchTrailer_SD.avi
Volcano
A new map featured in Renegade X 0.40 is our remake version of Volcano. Check it out!
Unreal Development Kit
As some of you are now aware, Epic has released the new
Unreal Development Kit
(or "UDK"). This is
HUGE
news.
The UDK is essentially
a free version of the Unreal Engine 3
, available for developers worldwide. The kit includes the most updated version of the award-winning engine, with all of the necessary editors and tools to create standalone games. Everything from the ease of use and flexibility of the engine, all the way up to the visual elements have been greatly enhanced in almost every possibly manner.
With the UDK, any developer can make
standalone
games, without paying a cent. There is also a commercial version of the UDK: simply pay $99 USD, and you can create and sell your own games. The first $5,000 will go straight to the developer - after that, 25% of the proceeds will go to Epic Games. Not only is this great for small developers, but it's a very intelligent business move on Epic's behalf.
The usage of the UDK is totally free, and Renegade X, like many other mods, plans to take advantage of this great kit.
Since this is all new to us, we can't quite say much yet. But what I can say, is,
there is a great chance Renegade X will become a standalone game in the future
. Still freeware, obviously, this isn't going commercial due to its C&C themes, but a standalone Renegade X means you will
no longer need UT3 to play it
.
The process could take months, so our plan is to release one or two more versions of Renegade X for Unreal Tournament 3 in the near future (so don't worry, C&C fans, your UT3 did not go to waste
). We will then spend as much time as it takes trying to port everything to the UDK and building some of the coding from scratch. It may take some time, but in the end, a standalone version of Renegade X is entirely possible, and by the time that happens, you can expect a lot of new, cool features.
Havoc
The rough n' tough Commando is back and ready to rock and roll! Some of you may have noticed that we're using a temporary "Havoc model" ingame in the past few versions of Renegade X. We are happy to present to you the recreated concept of the main character, Captain Nick "Havoc" Parker!
We will unveil the model when it is complete.
Rocket Officers
The GDI and Nod Rocket Officers are back, and now available for use in Renegade X 0.40.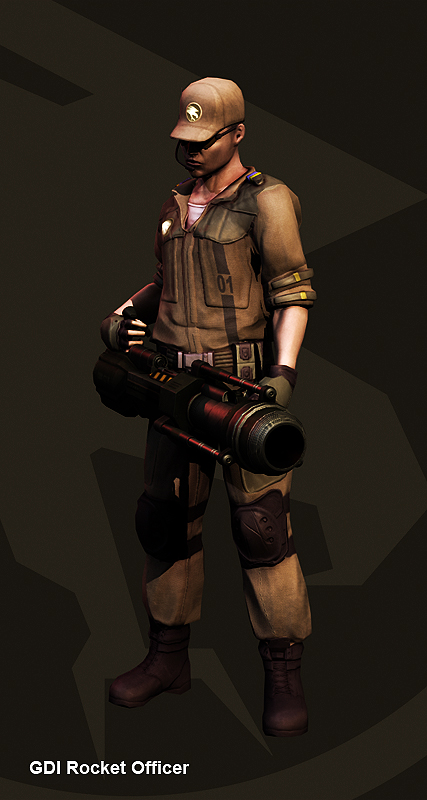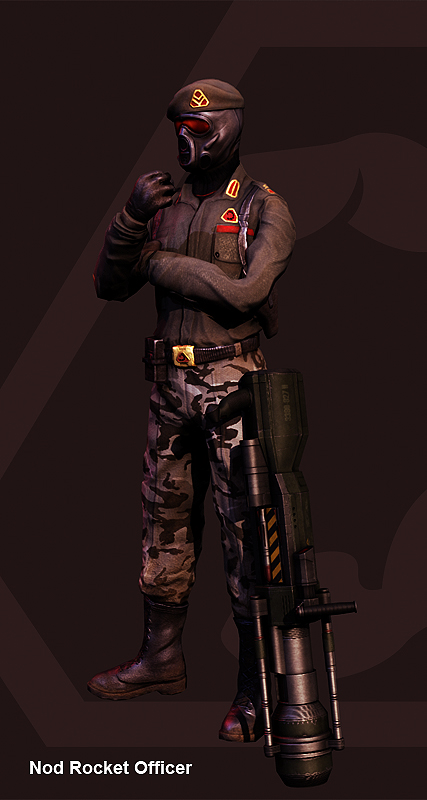 Dev Night
We will be hosting a
Dev Night
next weekend. On
November 21st
and
22nd
, the developers of Renegade X (Totem Arts) will be joining the 0.40 public servers for a game. The projected time for both days, which are next Saturday and Sunday, is 3:00pm EST. You're all invited - if you'd like to take part in this event, keep your eyes open for more news, and be sure to get the 0.40 beta up and running.