[UPDATED July 28, 2009] #1
Name:
Trapped
Version:
Beta
Compatibility:
PC
Description:
A small Deathmatch map with a building in the center, filled with weapons and player-starts. Suggested players, 4-6.
Comments:
One of my better maps, still getting used to working with the UnrealEd, constructive criticism is appreciated. Don't expect anything "developer worthy."
[b]Screenshot: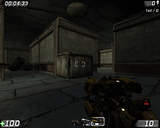 Credits:
Me
Homepage:
http://www.cfmods.blogspot.com
Download:
http://www.mediafire.com/download.php?2dkymmdemzl