Name:
Legion
Version:
0.1
Compatibility:
Made with Patch 4
Description:
Legion is a third person action RPG where the goal is to survive the oncoming horde as long as possible.
Killing enemies will earn you XP which can be used to purchase additional spells. Each spell uses some of your mana, which will slowly regenerate over time. You can also regain mana by picking up the blue mana orbs that drop from some enemies on death. After you kill a certain number of enemies you will advance to the next wave, where the enemies will be tougher and more numerous. Every 5th wave is a boss wave where extra tough enemies will spawn. There is also a small chance that a boss may join in on any wave, so be aware of your surroundings!
Included are two maps, Survival has you stuck in the middle of a courtyard with waves of enemies coming in through the gates, and Hunter gives you a chance to go on the offensive and take the fight to your enemies.
NOTE: If your system can handle it, I highly recommend turning on dynamic shadows/light environment shadows (Settings->Video->Advanced)
---------
Controls:
---------
Left Mouse Click (UT3: Primary Fire) to move
Right Mouse Click (UT3: Secondary Fire) to attack using your currently selected spell/melee attack
Q (UT3: Translocator) to open the spell upgrade screen, Esc/Q to close it again
1-0 switch to the selected spell/melee attack
C (UT3: Crouch) to pick up an item of armor
-----------------------------------
Using the spell upgrade screen (Q):
-----------------------------------
When you have enough XP, you can click on the desired spell to buy it.
Some spells have pre-requisites, so you need to buy any spells directly above your desired spell first.
You can mouse over any spell for a description. You can also mouse over any armor you have picked up to see what benefits it is giving you.
If you mouse over a spell and press a number key (1-0) the spell will be bound to that key, replacing any spell that was previously bound.
Comments:
The next version will include co-op play, this release is single player only.
Screenshot: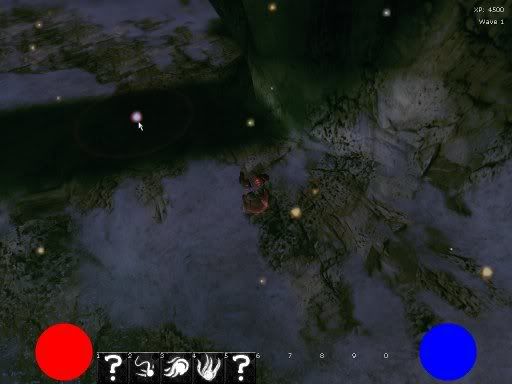 Credits:
All coding and LEGION-Survival by Matthew Fawcett (blakvege), effects and LEGION-Hunter by Alan Lee.
Download:
http://www.fileplanet.com/200211/200...8Action-RPG%29