I have no idea how do I put this but hopefully someone will be able to help me.
Qns 1,
UTDeathMatch:
When I followed some tutorials on the internet, most of them extends from UTDeathMatch, I was actually ok with it. However, after then I realize the bots are killing each other instead of just aiming for me.
Is there anyway to stop the bots from killing each other?
Or do I have to include AI codes to actually stop the bots from killing each other.
So after which I decide to try changing to UTTeamGame instead and hence here is my
qns 2
: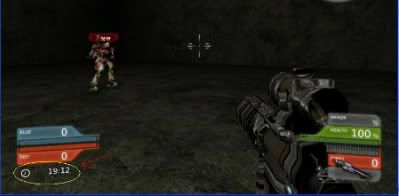 A.
How do I remove the timer as shown in the image, (I've tried looking at the codes itself but I couldn't tell which are the codes that corresponds to the timer...I've also tried goggling it but to no avail...)
B.
& also can I use that timer to my own advantage in other ways instead, such as creating a visual time bar for my skill to work?
And just side qns, extending from UTDeathMatch or UTTeamGame, which is better?
Does it make sense? & Thanks in advance.