Here's a quick installation quide for the GameSpy patch.
Video demonstration
(
Link
)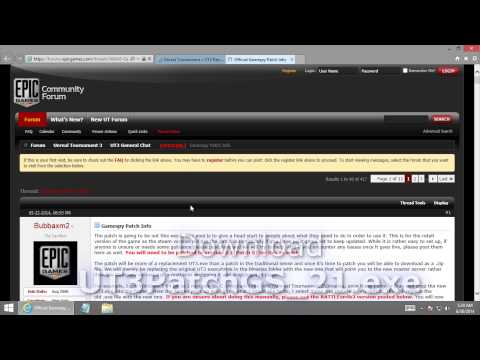 Text tutorial
Patch your UT3 game to the latest game patch (Patch5 / v2.1)
Download the patch UT3PatchGS_21.exe
If you have User-Access-Control enabled, a popup will follow forcing you to allow the execution of the patch.

Click "Yes"


.

After allowing the execution, the EULA will popup. You have to accept the conditions listed there (Note: They are the same as all previous patches)

Click "Accept"


.

The next step will try to locate your UT3 folder. If a valid folder is found, you will be faced the following window. Otherwise skip this step and continue with the following step choosing the UT3 install location manually.

If this path is correct, click "Yes" and ship the next step (which is only for choosing the install location manually)


.

If UT3 cannot be found at first, the patching process will show a message and the automated patch process will abort. You have to manually choose the install location



.

The patch is now properly installed.

Note: You can use all the existing shortcuts to start the game.
Please visit the
official thread
, if you have problems with the patch itself (like crashes etc.).
If you forgot your password, you can look at
this thread
for quick instructions how to reset your password.