Hi all, I've been having
major
problems trying to cook my recent level. I finally have found the culprit: the package
HU_Walls_Brick
. If I have any reference to a material in this package, the cooker will crash without warning...no error message, no success message; leaving my level uncooked.
Also, when trying to open the editor, it will crash unexpectedly if a material from this package is used. The only way around the editor crashing on opening is to pre-load the package HU_Walls_Brick before opening the level file. I've checked the Environments folder in My Documents and it is blank, and I don't recall accidentally saving the retail package.
Only after deleted all the references from HU_Walls_Brick was I able to cook. I also did a test by duplicating a mesh from this package into my own package and changed the LOD reference material. The meshes seems to work fine without having the HU_Walls_Brick textures on them. Here is a screenshot of what I'm talking about: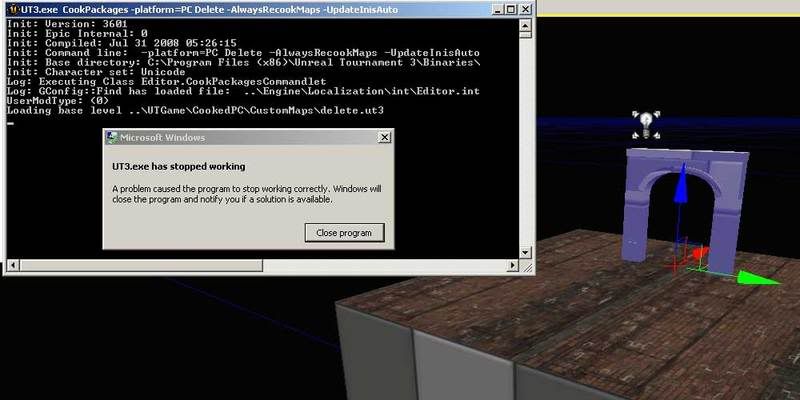 This is
super basic
level and the cooker is still crashing! This is because the material is from HU_Walls_Brick. Another test, with the material on the surface replaced, gives this (the arch has been resaved in a new package and the LOD material changed to the default material so that the mesh won't reference the material from HU_Walls_Brick):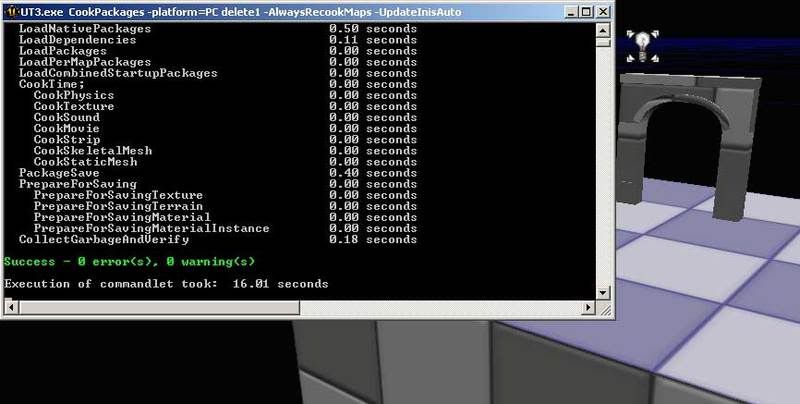 ("delete" is the name of the saved file)
My question to everybody is to make a simple level (preferably additive) with a cube and to texture one side of it with a material from HU_Walls_Brick. Save the package,
before cooking
, then click cook and click no to save packages. See if your cooker crashes too. I would like to know if it is just my package from my install or if everyone else is having this same problem. If everyone else is having the same problem, it would be best for Epic to find a solution. Thanks!