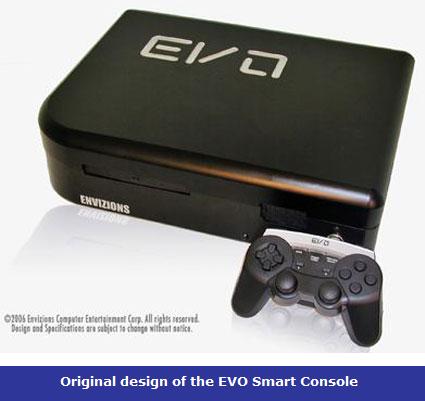 The Proposal of Console: As the Zeebo, Onlive Phantom is the goal of Evo Smart Console and accelerate the process of distribution of digital media and the end of the physical, thus lowering the price of games and reducing piracy, something the "like Steam".
EVO Smart Console Specification:
-CPU - Athlon 64x2 4850E +2.40 GHz
-64 Bit Support: Yes
-GPU - ATI HD 3200 Chipset
-Support 1080i and 1080p/HDCP
-Support H.264 VC1 and Mpeg-2 video decode
-Support DVI / HDMI / VGA
-Memory - 2GB DDR2 / Can Support up to 4GB
-Storage - 120 GB Hard drive with support for virtual unlimited storage
-Drive - Slot loading DVD Multi-Burner Drive
-Front - I / O Port 6xUSB (V2.0)
-(2) Ethernet Port
EVO Benefits For Developers:
-Use existing Linux tools to develop games and applications.
-EVO unit is also a development SDk unit.
-Developers can upload finished applications or games by using EVO's custom uploader applications.
-Development costs on EVO is greatly reduced.
-Paid support and services available.
-Developers and businesses receive 5GB of storage free.
-EVO is a complete open platform.
-New free updates, documentations, and tools are provided by Envizions Computer Entertainment Corporation and paid support is also available.
-EVO games are available by EVO store download or SD games.
-Developers recieve 75% of sales revenue from digital distribution games and applications.
-No charge for free applications or games distributed via EVO in the EVO network.
Before you say that the Evo Smart Console is an PC with one controller please note that as the Evo, the Xbox console was also a hardware-based PC,which both used a Pentium 3 (PC processor) and has not really to be a console.
Many people complain of the incompatibility of linux with windows programs and games, I want to emphasize that the Linux platform has evolved considerably during this time, now there are methods to make Linux compatible with Windows programs such as Word, Excel, PowerPoint .. . and even with the windows games like L4D, Crysis, COD4 and other through Cedega, VMware, wine and croosver, Atul also linux is giving support for DX9 and future have support for DX10, if a DX system adapted to the linux and linux supports Open GL 2.0, so that these programs quoted as wine, and not an emulator and yes a free software application that aims to allow Unix-like computer operating systems on the x86 or x86-64 architecture to execute programs written for Microsoft Windows. Wine also provides a software library known as Winelib against which developers can compile Windows applications to help port them to Unix-like systems.
The name 'Wine' derives from the recursive acronym Wine Is Not an Emulator. While the name sometimes appears in the forms "WINE" and "wine", the project developers have agreed to standardize on the form "Wine".
Wine is predominantly written by means of enhanced "clean-room" techniques[citation needed] to ensure hygienic code, with some developers advising against the use of certain information obtained via documentation or tools present in proprietary SDKs (for example, the Platform SDK or Windows Driver Kit). In most circumstances Wine developers use black-box testing to uncover specific behaviour, and code added to Wine is generally required to be accompanied by test cases."
Demonstration of Wine:
www.youtube.com/watch?v=gIXzbGurVqw<...
www.youtube.com/watch?v=C63fmaDR1gI<...
www.youtube.com/watch?v=EqilAkR7Q1w&feat
...
www.youtube.com/watch?v=edBvWoiJnvo<...
www.youtube.com/watch?v=yDmc4fG2AJM&feat
...
Site Oficial of Console:
www.evo-phase1.com/
First of all give a list of games made in open-sourse:
www.forumpcs.com.br/viewtopic.php?t=1674
...
* Reminder: If the developers do not want to work with Linux, can work with the version of the Evo Smart for Windows Vista.