UT3 ServerViewer 1.1 for PHP-Nuke 7.x, 8.x and Standalone ( fit it to your needs and/or include it into your homepage)
Works without any modification on UT3-Server.
Provides Webstats0.2 by [dirrty]St@rbuck.
(Also works with other CMS with a little PHP-Skill)
Query up to 3 Servers. (If you want more, post it here)
Serverbanner
Example #1: Works with all UT3-Servers without any modification:
Minimal Requirements:
Webserver
UT3 dedicated Server
Allowed outgoing UDP-requests from WebHost to UT3-Gameserver (UDP 6500)

Example #2: Works with all UT3-Servers with Webstats0.2 installed:
Requirements:
+ Allowed outgoing TCP-requests to your Webadmin/Webstats port on UT3-Gameserver (mostly 9000).
+ UT3 WebStats V0.2 from [dirrty]St@rbuck
(See
http://forum.dirrtyclan.com/Default.aspx?g=posts&t=170
for more details.)
UT3Sview terminates the known character-issue in Webstats0.2
Popup:
Scrolling MOTD (From UT3server MOTD)
Time remainig, TeamScore, Teambased Kills per Deaths,
Directlink to Players Full Stats @ enemydown.co.uk
Auto-Refresh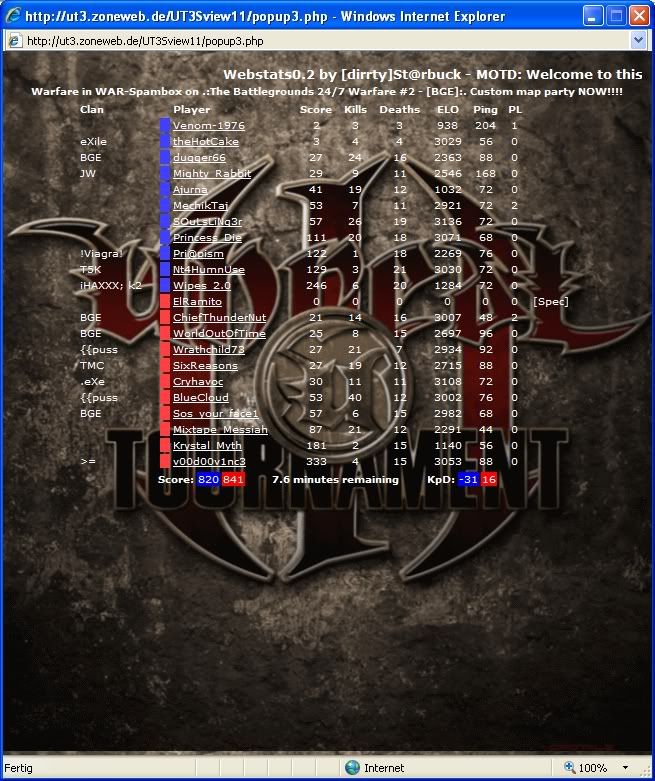 Forum/Website ServerBanner Addon (LIVE)
Requirements:
WWW-Host with Mod Rewrite active
Outgoing UDP 6500
Change the Background as you like (GIF). Use your (even animated) private or clan -banner (450x80). Just change the 'server.gif'
No config needed. Reads your predifined server(s).
Online/offline detection
Much more Display options.
Webserver: Mod Rewrite must be available.
Installation:
First install and configure Webstats 0.2 (If you want)
Upload the module UT3Sview11 into your Nuke-Modules directory
Go to Adminpanel/Modules and activate UT3Sview11
Edit in UT3Sview11/config_sview.php your servers and Ports.
Images will be autodetect and must be in the UT3Sview/maps-folder.
The Image must be named same as the map but case-sensitive, without the Prefix (DM-, WAR-, etc)
The only image-format is .gif and its size has to be 500X175px !!!
For testing the Banner point your browser to yourdomain.com/modules/UT3Sview11/sig/server1.gif
*If Webstats 0.2 is not installed, extended info is not available!
Have fun!
Download and instructions:
here
View the Nuked
TESTPAGE
View the Standalone
TESTPAGE
Special thanks to [dirrty]St@rbuck for publishing UT3Webstats and cruz's UT3ServerQuery-Script [Don't touch this
]
Modifications are welcome. Post here.....