Name:
Soldat UT
Version:
2
Compatibility:
Tested on UT2004 latest patch (3355), but should work with older versions.
Description:
A 2D sidescrolling mod for UT2004, compatible with any maps for k0lpa's 2D tournament for UT2003.
The main difference of this mod over k0lpa's and U4E's is the control style. The mod borrows the smooth and useable control style from the 2D game Soldat - keyboard moves the character, mouse is used to aim. In addition, a laser pointer will fade in when you are aiming at a distant object, to show you exactly where your shot will hit. A few annoying bugs from the other 2D mods have been fixed.
Also, i thought it would be nice to have 2D UT available as a
standalone (read: small) download.
Comments:
This is the gametypes only. To play the mod, you will need to download some maps from
this page
.
Screenshot: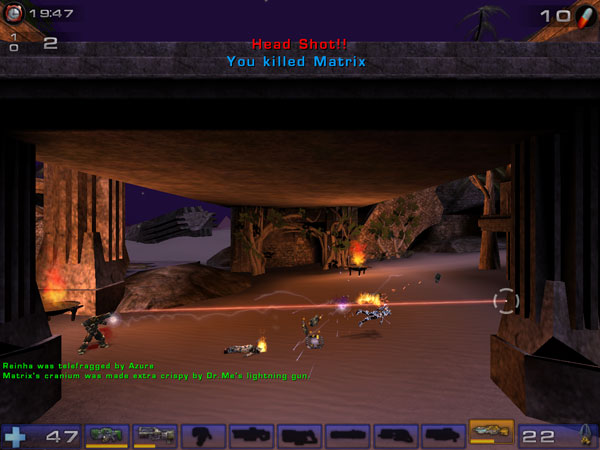 Credits:
Coded by pospi, based on the groundwork provided by k0lpa's 2D tournament and the new Unreal4Ever 2D beta.
Homepage / Download:
http://mduel2k5.spadgos.com/files.php
Update - v2
I've fixed up all the bugs people have brought up with me, hopefully now things should run fine. Not sure about the problems you are having with mapcycles since I made no changes to that sort of code at all.
Fixlist:
- Fixed multiplayer stuttering bug (i think, I only have a 100Mbit switch to test on so if problems persist, please contact me).
- Removed player collisions (no more WTF telefrags).
- Redid zoom function for scoped weapons - camera now zooms out as well.
- Better controls - 'Forward' and 'Backward' keys are now used as jump/duck keys (no more rebinding keys for WSAD users).
- Tightened camera smoothing to reduce apparent mouse lag on low-end computers.