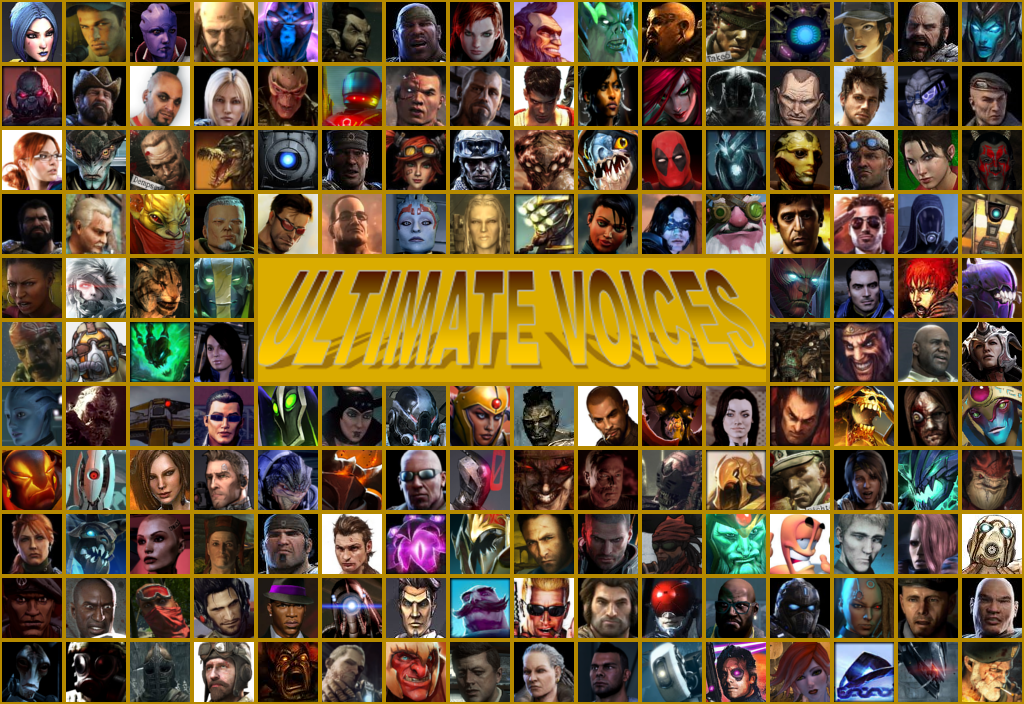 New projects:
Borderlands & Borderlands 2
Axton, Brick, Bruiser, Captain Flynt, Claptrap, Crazed Marauder, Engineer (2 versions), Gaige, Goliath, Handsome Jack, Krieg, Lilith, Loader, Marauder, Marauder Elite, Marauder Killer, Maya, Midget, Mordecai, Nomad, Psycho (2 versions), Raging Goliath, Rat, Roland, Salvador, Sheriff, Wilhelm, Zer0
DOWNLOAD
Metal Gear Rising: Revengeance
Armstrong, Bladewolf, Mistral, Monsoon, Raiden (2 versions), Sam, Sundowner
DOWNLOAD
DMC: Devil May Cry
Dante
DOWNLOAD
XCOM: ENEMY UNKNOWN
Female Soldier, Male Soldier, Zhang
DOWNLOAD
Battlefield 3
Soldier Voice ("Self voice" in game + some extra lines from auto triggers to fill up missing quotes)
DOWNLOAD
Saints Row IV
Asha, Benjamin King, Boss Female (3 versions), Boss Male (4 versions), CID, Clawz, Cyrus, DJ Veteran Child, Dominatrix, Dom the Dom, Donnie, Johnny Gat, Josh Birk, Keith David, Kinzie, Maero, Matt Miller, Mrs Claus, Nyte Blayde, Phillipe Loren, Pierce, Raptor Ned, Roddy Piper, Santa, Shaundi, Fun Shaundi, Future Shaundi, Tanya, Zimos, Zinyak
DOWNLOAD
Deadpool
Deadpool
DOWNLOAD
Far Cry 3
Callum, Heavy Privateer, Jason Brody, Leonard, Mikhail, Omega Force Soldier, Pirate (2 versions), Privateer, Rakyat Warrior, Rex "Power" Colt, Scientist, Tisha, T.T. "Spider" Brown, Vaas Montenegro
DOWNLOAD
Updated projects:
Portal 2
Defective Turret, GLADOS, Sentry Turret, Wheatley
DOWNLOAD
All voices are now little louder than before + GLaDOS voicepack was updated with new voiceclips from DOTA2 GLaDOS announcer pack
Killing Floor
FemaleVoiceOne, MaleVoiceOne, MaleVoiceTwo, Patriarch, MaleVoiceThree (Firstly hidden then removed from the game files)
DOWNLOAD
Added FemaleVoiceOne, updated Patriarch voice with new quotes and made MaleVoiceThree little louder. MaleVoiceOne and Two without changes compared to previous version.
Mass Effect
Aria, Ashley, Bluesun Batarian, Bluesun Human Male, Cerberus Trooper, Eclipse Asari Boss, Eclipse Asari Elite, Eclipse Human Female, Garrus, Grunt, Harbringer, Jack, Jacob, James, Javik, Kaidan, Kai Leng, Kasumi, Krogan Battlemaster, Krogan Elite, Legion, Liara, Miranda, Mordin, Samara/Morinth, Shepard Female, Shepard Male, Tali, Tela Vasir, Thane, Vorcha, Wrex, Zaeed
DOWNLOAD
All voicepacks are louder now, added Aria voicepack and various new quotes to some of the voicepacks (from ME3 DLCs, like The Citadel or Omega)
Bulletstorm
Gray, Ishi, Sarrano, Trishka
DOWNLOAD
All voicepacks are now little louder than before
Call of Duty: Zombies Mode
Billy Handsome, Castro, Danny Trejo, Dempsey, Finn, Kennedy, Marlton, McNamara, Michael Rooker, Misty, Nikolai, Nixon, Richtofen, Robert Englund, Russman, Sal, Samantha, Samuel, Sarah Michelle, Takeo, Weasel
DOWNLOAD
All voicepacks are now little louder than before, added 8 new voicepacks from Black Ops 2 and updated voices of original survivors with Origins quotes
Gears of War
Aaron Griffin, Adam Fenix, Alexandra Brand, Alicia Valera, Anya Stroud, Augustus Cole, Benjamin Carmine, Bernadette Mataki, Boomer, Clayton Carmine, Cog Gear, Damon Baird, Dizzy Wallin, Dominic Santiago, Drone, Ezra Loomis, Female Onyx, Garron Paduk, Jace Stratton, Kantus, Marcus Fenix, Michael Barrick, Minh Young Kim, Onyx Guard, Queen Myrrah, Raam, Richard Prescott, Samantha Byrne, Savage Drone, Sofia Hendrik, Tai Kaliso, Theron, Victor Hoffman
DOWNLOAD
All voicepacks were remade from scratch. Compared to the older version I've added a lot of new voices and new quotes to the older ones also increasing quality of the sound files (extracted directly from the games rather than recorded in few cases. Needed 7 different programs/scripts to get to those Xbox sound files
)
The Elder Scrolls V: Skyrim
Ancano, Argonian Female, Argonian Male, Bandit, Brute, Brynjolf, Cicero, Commander Female, Commander Male, Dark Elf Female, Dark Elf Male, Delphine, Dremora, Ghost, Guard, Khajiit Female, Khajiit Male, Mercer Frey, Nazir, Nord Female, Nord Male, Orc Female, Orc Male, Soldier, Tullius, Ulfric, Vex
DOWNLOAD
All voicepacks should be significantly louder than before
Serious Sam 1, 2 and 3:BFE
Serious Sam
DOWNLOAD
Increased volume of some of his quotes and added new ones, from Serious Sam 3: BFE
Duke Nukem 3D and Duke Nukem Forever
Duke Nukem
DOWNLOAD
Added many quotes from Duke Nukem Forever... actually they're now total to about 90% of all quotes simply because many of them were exactly the same as in the older game but in much better quality.
Shadow Warrior (original 1997 and 2013 remake)
Lo Wang (1997 version), Lo Wang (2013 version)
DOWNLOAD
Added some quotes to original Lo Wang voicepack and added completely new voicepack for Lo Wang from the remake
Worms 2
Australian, Stifflip (modified voices), Double-oh-Seven, Smooth operator, Soulman (original voices)
DOWNLOAD
All voicepacks should be significantly louder than before
Blood and Blood II: The Chosen
Caleb, Gabriella, Ishmael, Ophelia
DOWNLOAD
Added more quotes to Caleb's voice and made it louder + added 3 other "the chosen" voicepacks
League of Legends
Aatrox, Azir, Braum, Cassiopeia, Darius, Draven, Heimerdinger, Kalista, Karthus, Katarina, Lucian, Master Yi, Nasus, Renekton, Rengar, Sion, Sivir, Thresh, Tristana, Twitch, Vel'Koz, Vi, Xerath, Yasuo
DOWNLOAD
As a rule I decided to make voicepacks of champions that have at least 30 different voice lines (from current, past and special skins voice-overs - if similar enough to base) that would have any sort relevance in ut2004 game
Scarface: The World Is Yours
Tony Montana
DOWNLOAD
Doubled the number of voice lines for this character and made the voicepack little louder as well (standard stuff at this point :P)
DOTA2
Bane, Batrider, Bounty Hunter, Brewmaster, Bristleback, Centaur Warrunner, Chaos Knight, Chen, Clinkz, Death Prophet, Doom, Earth Spirit, Ember Spirit, Enigma, Gyrocopter, Legion Commander, Lina, Meepo, Necrophos, Night Stalker, Nyx Assassin, Oracle, Outworld Devourer, Rubick, Slark, Sniper, Terrorblade, Troll Warlord, Tusk, Visage, Wraith King
DOWNLOAD
Added many new voicepacks and updated the old ones
Unchanged projects:
LEFT4DEAD
Bill, Francis, Louis, Zoey, Coach, Ellis, Nick, Rochelle
DOWNLOAD