GoldenEye 007

/

Perfect Dark

Temple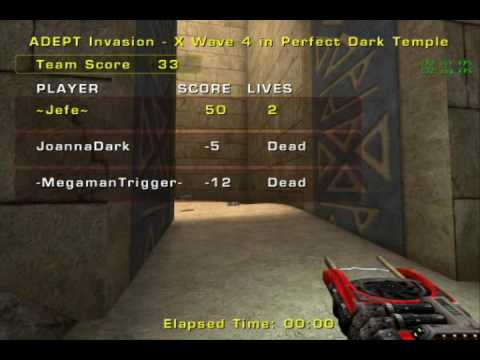 Version:
1.0 (Final)
Compatibility:
UT2004 and the latest patch
Description:
This is the classic N64 map updated for UT2004. Made with DM, team games and invasion in mind.
See readme for full changelog/comments. This map was a long time coming, I worked on it very sporadically (completing several other projects in the meantime) and learned much about map making in the process. My main goals were to make a playable, balanced and good-looking remake of one of my favorite maps, the multiplayer Temple from Perfect Dark and GoldenEye 007. I worked extensively on bot pathing (I'd say that nearly half of the build time was working on troubleshooting and improving the AI) so you should get a great game both online and off. I also made custom textures, which you are free to reuse. I hope you enjoy this map, and if you would like to modify it for some reason, go ahead, but make sure you include the readme and try to get into contact with me first, explaining what you're changing.
Credits:
Rare for the map layout and music; Stigmat for his old beta that got me started; Hourences (
http://www.hourences.com/
) for the flares, spotlights (DM-Sae) and lamps (DM-Rrarijar); LordSimeon for the spaceship (ONS-Galadriël-System); Teddie 'teddabod' Tapawan (
http://teddie.beyondunreal.com/
) for the ladder and cobweb meshes (DM-CBP2-KillbillyBarn); Hazel.H (
http://www.hazelwhorley.com
) for the lightbox shader from her Egyptian Textures package; David Green (
http://www.lilchips.com/
) for his custom adrenaline.
Homepage:
http://www.vgmp3.org
Download:
http://mapraider.com/maps/?fileid=4875
http://www.utzone.de/forum/downloads...o=file&id=3525
http://ut2k4.gamebanana.com/maps/113308
http://unrealtournament2004.filefron...kTemple;104641
http://www.strategyinformer.com/pc/u...map/33364.html
http://www.vgmp3.org/DLs/UT2004/DM-P...DarkTemple.zip

Other stuff to check out:
GoldenEye 007 Caves
Perfect Dark Characters