The shift-horn's cry marks end of day.
By day, the sky is turned red with shattered brick and airbourne dust. By night the ground runs red for darker reasons altogether.
Take heart! All work and no play makes you a dull boy, so take up your tools and work up a sweat.
Download:
http://www.unrealplayground.com/maps...rch=Men%40work
(UnrealPlayground .zip link)
http://files.filefront.com/VCTF_MenW.../fileinfo.html
(10.8mb .rar)
http://files.filefront.com/VCTF_MenW.../fileinfo.html
(13mb .UZ2 for server redirects)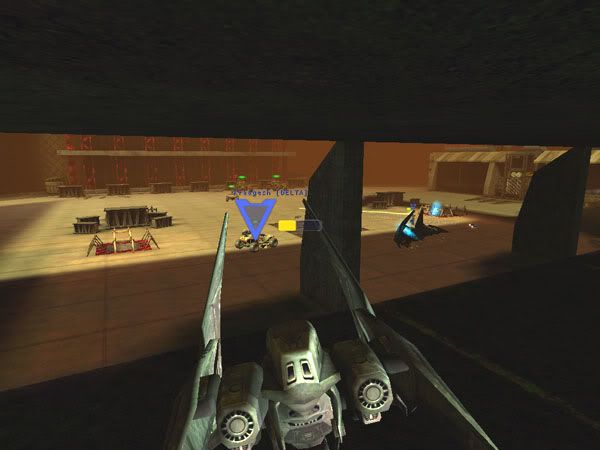 The map is a medium-sized ground map set in a mega-city style building site, surrounded by a forest of skyscrapers under a polluted, rust-orange sky.
It's designed mainly for server regulars, by that I mean people who regularly play vctf and appreciate a bit of teamwork, I tried to provide lots of scope for VIOP/TS users to co-ordinate thier attacks - the player who takes his time and uses the map's resources instead of just running mad for the flag will have the edge over the flag-rushers (although running mad for the flag is cool also of course).
http://img.photobucket.com/albums/v1...WorkPic6-1.jpg
Gameplay Notes
:
* Use the map-features! There are several use-triggered objectives (bonuses might be a better word) in the map which will give you and your team an edge if used correctly.
* The one in the middle delivers to your team the Aegis, faster and slightly more powerful Paladin - great on the offensive and retreating with the flag, but you'll need the help of a team mate to activate it and it'll leave you vulnrable for a few seconds.
* Others might lift you up, to a particularly devious route, and some might create an easy oppertunity for a quick flag-grab. See the map-preview screenie for details.
* Please do note: In order to make use of the vehicle-lifting cranes, the vehicle *must* be occupied at the time, leet hacksaws may quickly realise that teamwork will have to be employed at some stage.
* Bot-pathing is present but *relatively* basic, it is not my strongest point I freely admit, but they will come for your flag & will give you a good game, in order to get yourself familiar with the map.
If they're on Godlike of course..
http://img.photobucket.com/albums/v1...WorkPic5-1.jpg
http://img.photobucket.com/albums/v1...WorkPic3-1.jpg
For those who played the beta versions;
I've made a few changes since the last beta, and after a good amount of testing (and a few server tests for good measure) I reckon it playes much faster, better and more fun for everyone invloved.
Changes include:
* Upped the vehicle-count *considerably*.
Each team now has 2 Benders and 2 Scorps at the base, plus 2 Raptors on the flanks, a Goli to the side and a Pally up-front.
The spawn times on the heavyer vehicles are high to compensate, so beware of rushing them in to a quick death.
The new balance of vehicles means that the team who takes time to go for the Aegis *will* have the upper hand, they can then afford to take two heavy vehicles on the attack and still leave one on defence, and by taking your vehicles up onto the enemy roof, your heavies can take out the enemy's with relative ease.
* Improved the overall lighting, and added more team-coloured indicators along the foot routes, to help plucky footers.
* Fixed the immortal floaty-flag problem.
* Prettied up the terrain sections.
* General housekeeping with collision and pickup, etc.. to accomodate the new vehicle load.
http://img.photobucket.com/albums/v1...WorkPic1-1.jpg
* Thanks in no small part go to Donator, for the brushes I used for the grabber buckets, that first showed up in his DM-OSR-Rockmill map, for his Lynx Vehicle, from vctf-UP-Archangel, and for a souissant of the overall style I borrowed from Archangel.
* So too thanks to Gorzakk from Titan, who did the code-work for the Aegis vehicle, originally for his version of ONS-Minus, availible from the Titan boards.
* Thanks also to Hourences for his IndustryX texture pack some textures of which I've used as-is, and some I've modified alongside my own textures in Photshop. Cheers!
* Another thank you goes to 3DTexturiser of UP fame for the skybox, part of his SkyBox Bonus Pack availible from UnrealPlayground, and thanks too to Bersy from INA for the Blasting Ahead sign, an image I fear I had to mangle slightly in order to .DDS-isfy it, but take my word for it the original vector art is great.
Hope you all have fun.