A simple Invasion map, the first one I actually finished. It's somewhat based on
DM-TheEnd
from the LDG Invasion server, not sure who made it.
The map has a huge hall for fighting monsters, a more or less safe area with lockers and 3 side rooms.
All assets are original, except for the skybox (which I found somewhere earlier for UnShame's TrainCrossing) and maybe the glass texture.
Static meshes and textures were made in PS/Max. It's another attempt at making UT2004 stuff look normalmapped when it's not. The materials are quite complex, I took inspiration from UE4 (Sci-fi Hallway in particular, hence the colors, the readouts and sci-fi theme).
The good thing about them is that by mixing various textures of different scale it's possible to achieve less tiled results while still keeping all the detail. Also all material colors are defined by 3 constant colors which means that even when the level is already completed you can still change the color scheme in 3 clicks.
Can't say this turned out totally awesome, but, well, see for yourself.
A short preview video: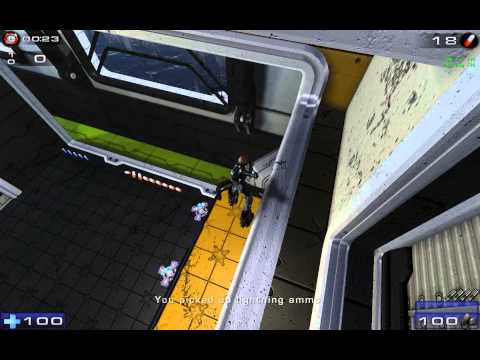 DOWNLOAD
You can alter this map and use my assets in your own projects as long as you mention me somewhere in the credits.
Special thanks goes to
proof
for helping me set up the lighting.
WiP thread on LDG forums:
https://ldg-gaming.eu/viewtopic.php?f=6&t=2827
I'd love to hear all kinds of feedback, just keep in mind that the map was created for a specific gametype (Ballistic Weapons Invasion) on one particular server. For example, the only reason Super Shock Rifle pickup exists there is to be replaced with BW Lightning Gun.
Upd.
Beta 2:
DOWNLOAD