Name:
Sprite Blaster
Version:
V2 (Flarebolt cannon V3)
Compatibility:
UT2004
Description:
Formerly known as the 'Flarebolt Cannon', the 'Sprite Blaster' features a modified firing mode as well as improvements to its alt-fire sequence. Using canisters of unstable ionized plasma, its main fire mode sends out multiple arcs of super-heated electro-plasma that will incinerate anything within its limited range. Like the previous model, its alt-fire deploys a miniature sun-like projectile that will zap anything within a certain radius of said projectile. The name of this weapon derives from the weather phenomenon seen above active thunderstorms.
So basically, this is a newer version of a weapon I made called the Flarebolt Cannon. In the original, the main fire mode consisted of shooting multiple fiery balls similar to a flak cannon. Now, it shoots multiple instant-hit bolts with a limited range.
The inspiration of the new fire mode comes from the bizarre weather phenomenon known as sprites.
Comments:
I would like to give particular thanks to Glassboy of Mayhem Weapons, Xyx of XSVehicle Pack, as well as the entire U4E (Unreal 4 Ever) Team. I was forced to reference some codes from those Authors' mods, and I want to make sure I give them the credit they deserve.
Screenshots: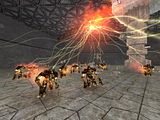 Click to Enlarge Images
Credits:
(c)Ace08, a.k.a. Scavage
Special thanks to:
Download:
http://www.mediafire.com/download/35...eBlasterv2.zip
Changes/Fixes:
*Alt-fire only consumes 5 rounds instead of 10.
*Modified the emitters to reduce particle activity on lower graphics settings to improve performance for older pc's.
*Reduced amount of damage per second from projectile beam.