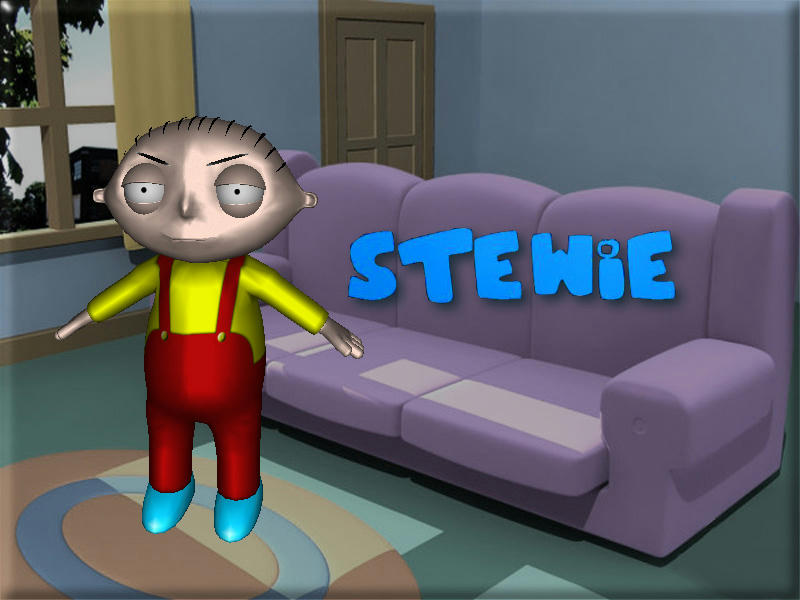 Name:
Stewie Griffin
Version:
Beta 1
Polygons:
20,068 (until future update)
Compatibility:
Unreal Tournament 2004
Description:
Character from the TV series Family Guy
Credits:
20th Century Fox Television
Fuzzy Door Productions
Seth MacFarlane
David Zuckerman
LemingPT
Other Credits:
meowcat - help with animation issues and karma
Evil Engine - author of the existing karma file for Yoda character
Essential Files:
This model will need you to install the Yoda character model, I have a link below. I needed the karma data for the ragdoll to work.
I plan on creating my own karma file in the program KAT, unfortunately my first 2 tries have been unsuccessful.
Thus make sure to install the Yoda model or this character might crash game or not work at all.
The voice pack is optional, but a must for all Stewie fans.
Download:
http://www.mediafire.com/download/1u...acterUT2k4.zip
Yoda Download Links:
http://www.utzone.de/forum/downloads...le&id=877_Yoda
http://wickedhq.com/index.php/compon...kins/2089-yoda
http://rusut.ru/load/ut2004_personaz...ers/71-1-0-206
Stewie Voice Pack Link:
Download Voice Pack Here
Make sure to wait a few, the download window will eventually pop up for the zip named stewiegriffin2k4.zip
Issues:
The lighting on the model seems odd and dark at times, not sure, I think if there is way to modify the texture to make this work, I will try.
Any feedback on the texture issue, I am all ears.
Also, like I said the karma for the ragdoll is something I'm new at, and hope to learn to do this, for future models that I may work on as well.
The ragdoll is a bit simple, but unique, and kinda funny, because anytime the game has some difference, it makes me look more at it.
Screenshots: