Name:
Special Skaarj Pack v4
Version:
Version 4 beta
Important! Please Read:
Due to a few issues of the 4th "SSP" ('SpecialSkaarjPack'), a new update was just added to fix those issues. For any whom have already downloaded the (4th) SSP, it is recommended that you re-download this file for a quick fix. All you need to do is replace your 'specialskaarjpackv4(.u) file. So this is just a quick repair for those who already installed the (4th) SSP. Any oof you that are just downloading the 4th edition for the first time can just read the 'readme' and put all files to their regular destination. Thank you.
Compatibility:
UT2004 and Satore Monster Pack (v120 recommended)
Description:
4th installment of the Special Skaarj Pack
Comments:
Fixed 'WoE' Error
For more info and screenshots:
http://utforums.epicgames.com/showthread.php?t=577561
New Monster Bios:
G
a
y
L
o
r
d
- A colorfully gay WarLord that thinks life is totally "
S
U
P
E
R
"!!!! Shoots rainbow colored missiles that gays its enemies up. (Gay sounds hopefully coming soon.)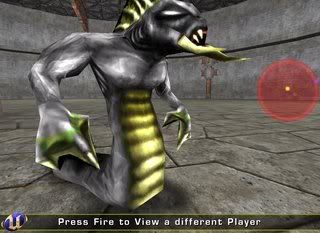 Slug
- A full grown Slith. Now they're capable of shooting large bio globs that can sometimes bounce up to 3 times before dispersing.
Fix and changes for V4 (Latest)
-------------------------------------------
1.) Decreased EliteBountyHunter and BountyHunter's missile sized
2.) Added effects to Fire, Ice and Anti-Skaarj.
3.) Lessened the Damage per second of Anti-Skaarj's void.
4.) Anti-Skaarj can fly.
5.) Hopefully fix fireskaarj's emitter error on dedicated servers. (Not totally sure)
6.) Added 2 new monsters to the list.
7.) Kraken's Animation bug might be fixed. (Not totally sure)
8.) Increased Kraken's health.
9.) DarkLord Doesn't shoot Emperor's projectile anymore; neither does the BountyHunter.
10.) Changed DarkLord's and AntiSkaarj's 'DeRes' skin. (The skin that shows up when the monster is dead.)
11.) Revised the Dragonfly's flame attack. (Shorter-ranged torch effect)
12.) Modified both the Kraken's and Crystalis' projectile firing codes. (Shoots one projectile more than other.)
13.) Changed Emperor's shield color.
Credits:
Let's see..um...Me, me and the makers of "Satore Monster Pack".
Download:
Zip:
ZIP File
(FIXED)
FilePlanet:
HERE
No RAR file (Didn't think it was necessary.)