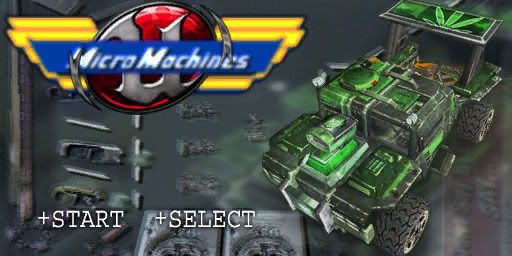 •
Name
:
OSM-WreckRoomRally-Beta1
•
Version
:
3369
•
Compatibility
:
Stock UT2004, plus OSMT (Old Skool Monsta Tools - Included)
•
Credits
Too many people have helped me out to list right now, could take up a whole thread by itself.
•
Download
:
http://files.filefront.com/6775015 [10mb.rar @FileFront]
http://www.unrealplayground.com/mapper.php?id=60193 [12mb .zip @UP]
Been working on this for nearly a week now – before we go any further I just want to be clear, it's not a mod, just a map designed to be played with OSM, SuperApe's mod for UT2k4.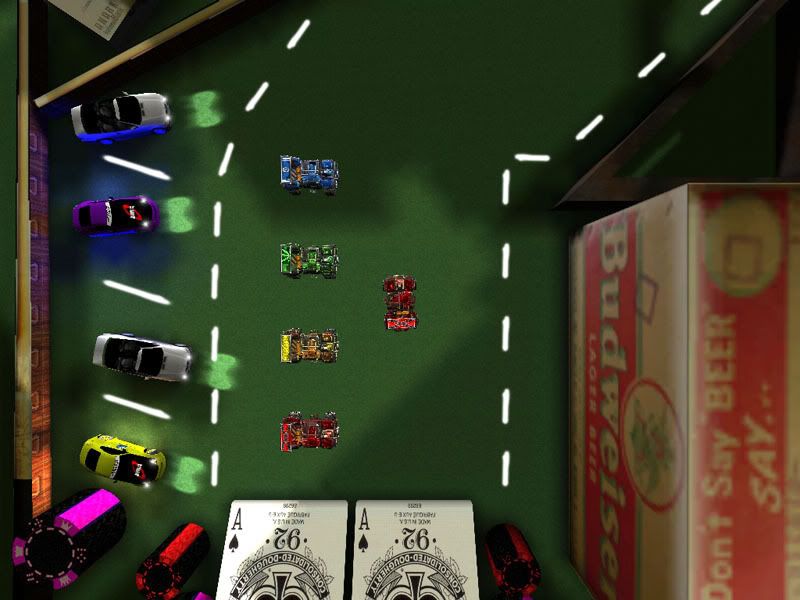 Hopefully the idea is simple enough – it's a top-down racer, just like MicroMachines on your old Megadrive or Nes.
The track is built in 3D, and then played with vehicles that lock you into a top-down view – you spawn inside your vehicle at the start line, and currently it's a basic 3-lap race format.
You see the world through the same top-down view as the pic above this paragraph..;
..and the track is built in 3D, as in this pic;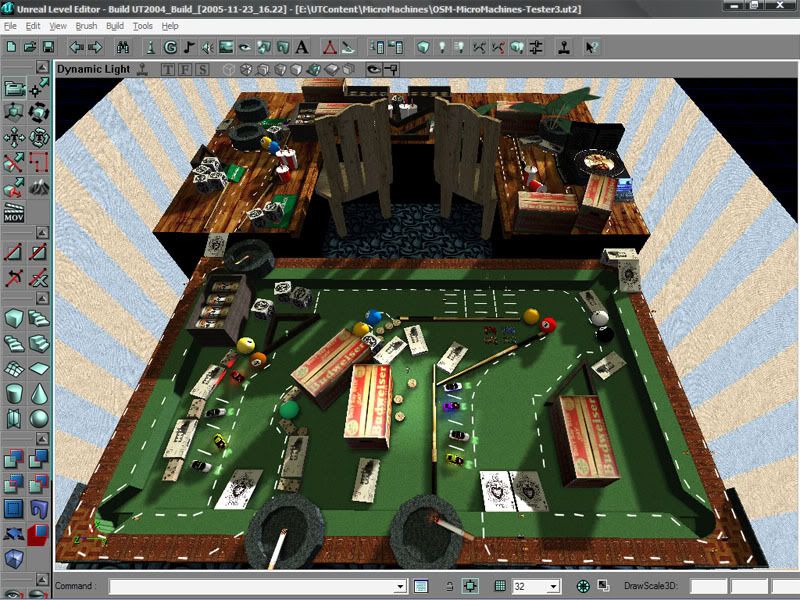 It's designed entirely around online play, in fact the whole point of it is for some silly japes & giggles with your mates in-between rounds of hardcore fragging.
To that end, there's 4 players, with Red, Blue, Green & Gold teams, and 4 Vehicle-PlayerStarts on the racing grid.
TurboBender mesh donated to the cause by:
Sabby
- Thanks dude.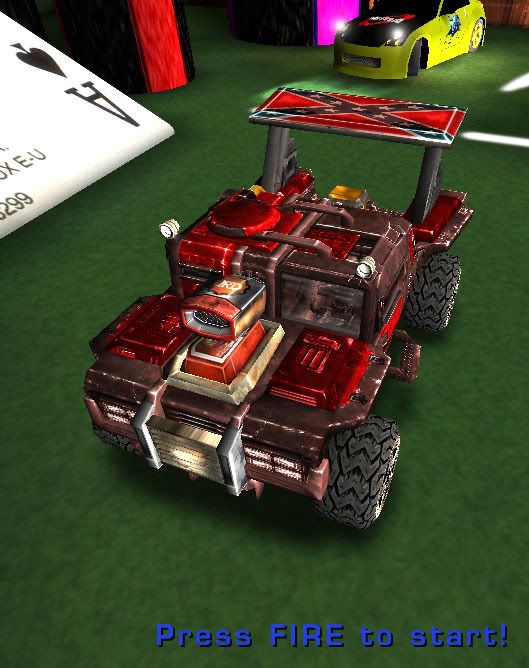 Red Team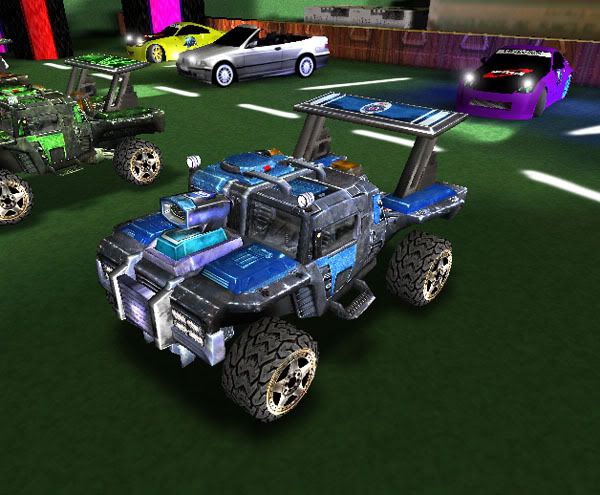 Blue Team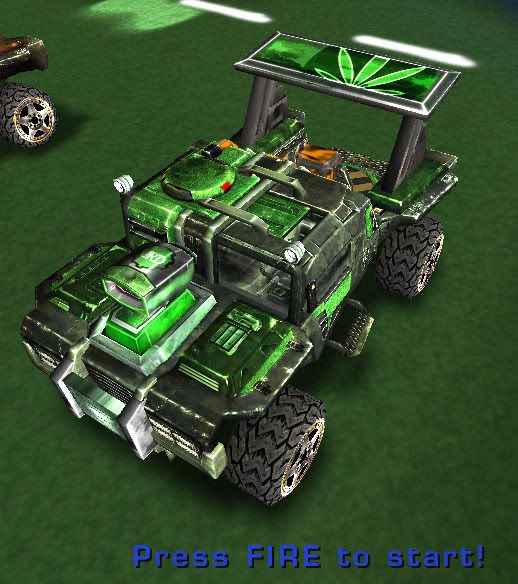 Green Team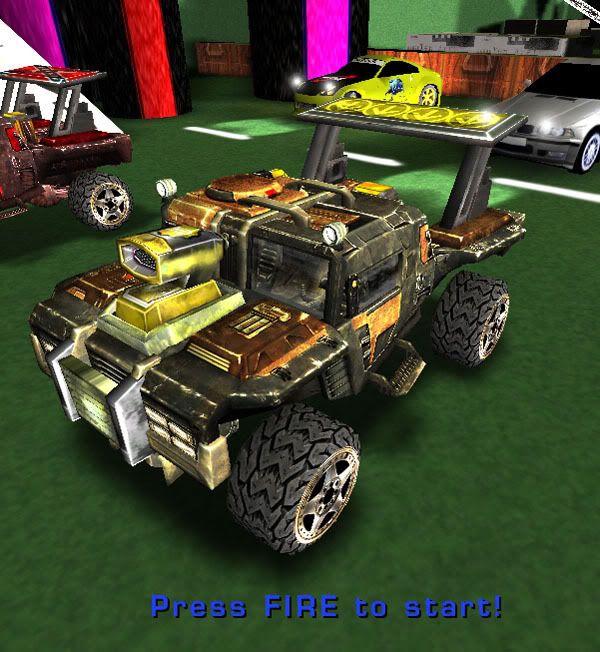 Yellow Team
It's far from complete though; When you & your mates spawn in, there is no formal "Go" signal, it's just you, on the track with a lap-counter.
That's partly what this Beta test is all about, I need to figure out the best way to approach that task.
So too, I need online testing, to make sure that everything I've assumed so far will work, actually do work.
I'd really appreciate it if some of you guys could log onto a server together & try it out - this is never meant to be played on your own.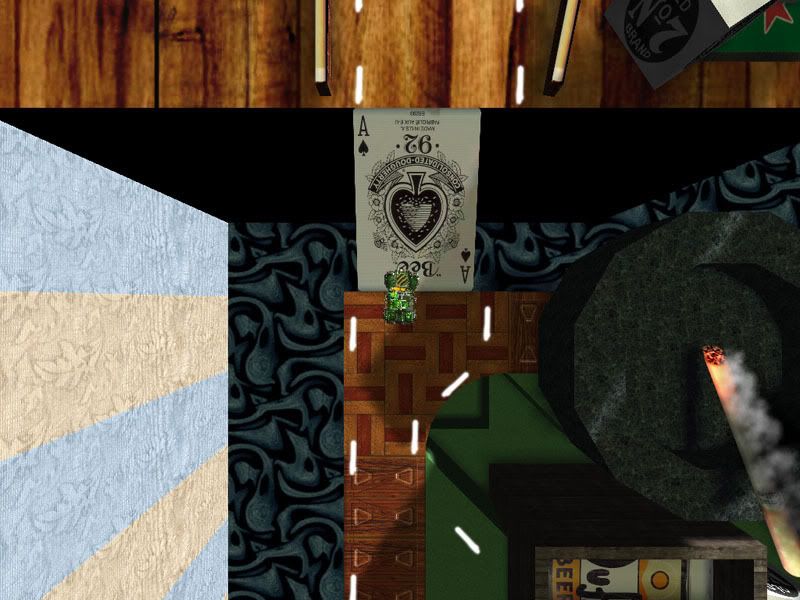 What works:
*) Top down view, camera position is locked over the vehicle, and since you spawn straight into the vehicle, you never see the "world" in 3D except for the very start, when you're floating in space before you first spawn.
*) Anti-stick mechanism – If you end up stuck at a silly angle & you can't flip yourself, if you take your finger off the accelerator button you'll "teleport" the right-way up.
*) 4-Wheel steering – At roughly 50% of top speed and under, your bender slips into 4-wheel steering mode, to give a more MicroMachines type rotational-steering feel, and also to help you turn very tight if you're prepared to slow down for it.
Also works in reverse.
*) Lap Counter – Each team has a trigger that counts laps, the game ends after the first player reaches 3 laps.
*) Basic housekeeping, apart from the OSMT files (included), everything else you need is packed into myLevel.
What doesn't:
*)
There is no formal system yet to keep all the drivers on the grid before the start of the race
.
Online testers will have to
play fair
, and not zoom off before the other guy spawns.
*)
There is no, and probably never will be bot support
.
I'm a hack-mapper, not a leet modder.
Besides, MicroMachines was always a multiplayer game - Like Bomberman - It needs people and people needs it! :eek!:
*) If you suicide and respawn, then chances are you'll respawn on a different Team.
You have 6000hp, and if you fall off the tables you get teleported back close to where you fell off, so in theory it's meant to be impossible to die, although you still can, if you try really hard..
*) Sometimes, rarely, you start off zoomed-in, and you need to use the scrollwheel (or whatever key you have bound) to zoom out.
This doesn't affect the camera angle, but the degree to which it's zoomed in on the vehicle. To be fixxored.
What's unknown;
*) Technically the VehiclePlayerStarts require 1024UUs clear in all directions or they spawn you without a vehicle (as you might imagine, this would be disastrous).
*) I don't actually know for sure if multiple people all spawning at the same time will encroach within this 1024 collision-radius.
*) I have practically no online info yet, in theory it should all work perfectly, but that's still just theory..
Still, no surprises makes life awfully boring, ay?
Please, let me know what you think - both playing alone and with mates - it's pretty important to me tbh that folks play it together.
I've got lots of idea for new tracks, & plan to make it simple for other mappers to copy/paste the "essential" actors from this map into their own.
Hope you have fun all.