Originally posted by Fuzzlebunny
Nope, I do too.
A normal human in average clothes is pretty boring really, if anything I always thought the UT99 armour was stupid because there's no way it could provide any protection - so why bother?
Kids playing laserquest or paintball wear more protection than that.
I must admit I was a little dissapointed in UT99, simply because they could have done *anything*, and yet it was just a bunch of normal people in scruffy clothes. Althoug I admit taht in hindsight the technology was a big limit on what you could do, still..
The armour is used as a statement to represent the strength of the character, the Juggs (for example) are huge, genetically redesigned things (I hesitate to say "people"
), hell, we saw one punch through a concrete pillar in the 2K3 intro.
The convention of big armour & a small head is used in just about all apects of character design (from tabletop games, to action figures, to film design, to graphic art, etc..) to represent scale and strength, when you look at the overall outlines, you clock the size of the head, and then your brain does a little bit of scale-juggling, & so the other bits look bigger in comparison to this (relatively) small head..
Originally posted by LordJaffa
Presicely what I thought
The Marine design would be very plain & boring if they were in proportion, and think about Terminators - they've not been able to see the ground since the 80's, that's not mentioning the eagle-motif which I think though is probably what you meant - I was thinking precisely of the painting below to represent what I meant about scale & propertion, they're a perfect example.
Marines *do* translate well to UT2kX & '99, despite being bulkier than Juggs and breaking all the rules that so many people seem to think are required for a cool look for UT chars;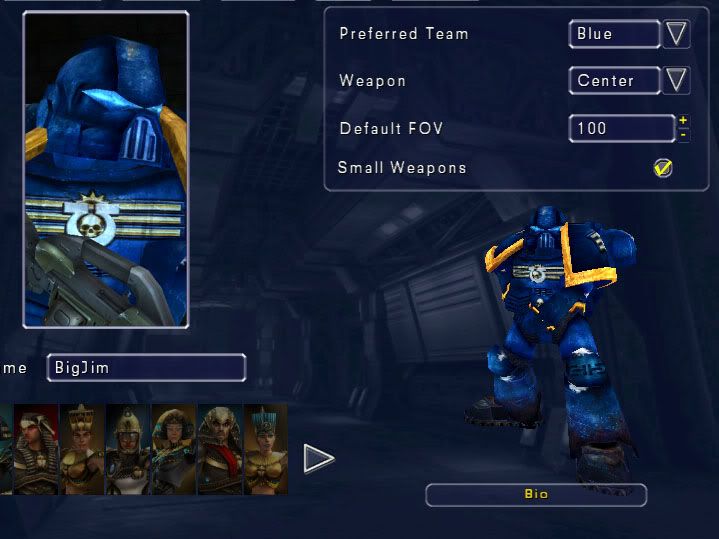 UT 2K3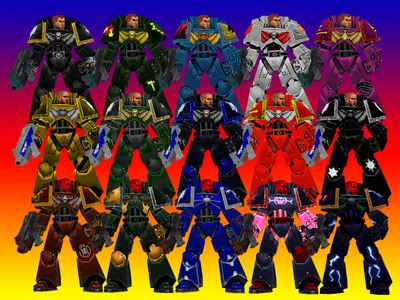 UT99
Despite being totally out of *natural* propertion they just wouldn't work as a design if you did them differently, loads of designers & modellers have tried to do real-size marines and failed.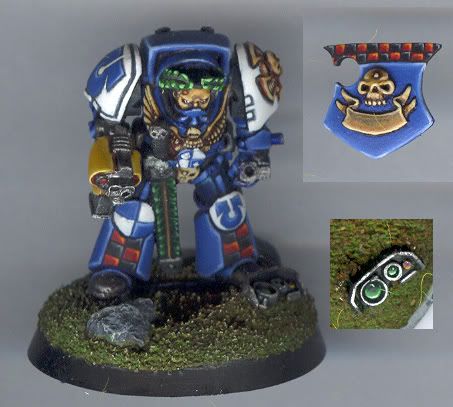 This is a (wip) Termie I painted a few years back, a good example because he has no helmet, and as you can see the head is pretty tiny.
I have hoards of these guys on photobucket and I have really tried several times to build Termies in proportion, and believe me, the design just falls to pieces if you try it - it
depends
upon your taking liberties with the size of the head, shoulders and limbs in order to make the rest of it look bigger than it really is, and in this I think that Malcolm & the Juggs are no different.
As an analogy - It's like the same way that to human eyes, white with blue highlights actually looks
brighter
than just just pure, plain, white.
Of course it's *wrong*, but we see it that way nonetheless.