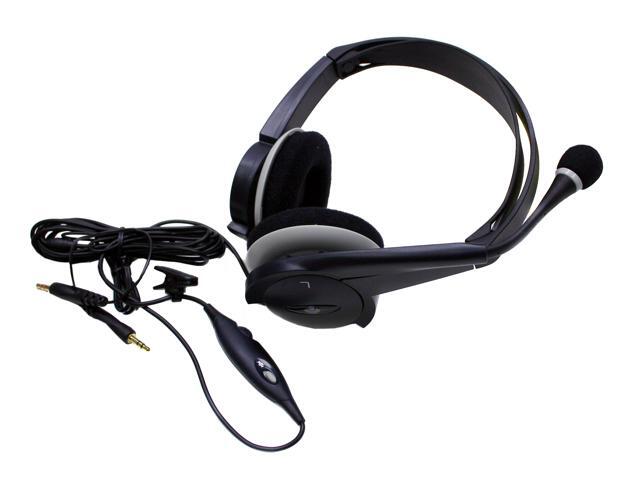 Yes I know, there are far better headphones out there than these, but I will tell you why I went with these.
1. Non USB.
USB headsets have a soundcard, so does my PC, a $100 one called the Creative Audigy2 ZS.
Why would I need another one?
2. Did not buy these to really listen to music or gaming, I have the Logitech Z680s which kick major ***.
3. I use TeamSpeak on my gaming server to talk with teammates and other players.
My stock Creative mic that can
be seen here
does not cut it for me.
You have to lean forward to talk when gaming, or shout.
I really bought these headphones for the mic since it is now 1/2" or so away from the lips.
A few things I really like about them is they do sound good.
I fired up Ironman by Black Sabbath and was blown away.
Now this was with the Creative settings on 5.1 still for the soundcard and speakers.
I then switched it over
to headphone mode,
and it sounded even better of course.
But I will not leave it on this setting as then the Z680s are no longer in 5.1 mode.
I am also not using the headphone jack on front of the Z680s control module.
If you use that the speakers automatically mute.
What I did was visit Radio Shack and picked up
one of these.
I was running one with two female ends on it.
The male end plugs into the soundcard where the green wire from the Logitechs goes to.
I then had the green wire in one of the female ends, and the other female socket had the audio cable that goes to my TV set in the other room so anything that plays back audio gets over to the TV since I PVR with my PC and watch back shows I record from the PC to the TV with my TV/FM tuner card.
I bought the above 3 way plug so I could then add the Platronic 90s to it.
This way the Logitech speakers do not mute since I am not using their input on the control module.
So I can game now and listen to the speakers only by turning down the headphone, or listen to both.
Or...if I am gaming late at night I can just leave the speakers off or hit the mute on the control module and use just the headphones.
I have not tried out the mic yet with TeamSpeak, but one of the Counter Strike guys who uses the gaming server to play Counter Strike on has the same headphones and his voice sounded a lot better than a plain mic like the one I had on my PC desk.
There ya have it.
A great set of headphones for $20.
And they do sound pretty decent, but as explained, I mainly bought them to take advantage of the great mic they have.
Here are 2 reviews which convinced me to also buy them.
http://www.firingsquad.com/hardware/...nics_audio_90/
http://www.gruntville.com/reviews/sp..._a90/index.php
More reviews from Newegg.
Retail ones
OEM ones
Corey