THATS RIGHT FOLKS!! I got the chance to try out the awesome
Unreal Engine 4
. First thing i gotta say is, it's obviously much much better than current UDK we use.
Unreal Engine 4
uses deferred shading instead of forward rendering that is used in UDK so the rendering is now much more beautiful than UDK.
Unreal Engine 4
supports advanced Direct-X 11 features such as HDR reflections, physically based materials, IES lighting and many more.
UnrealScript
has been
completely removed
and we now have
C++ support
. But dont worry because if you know UnrealScript then it wont be much of a problem migrating to C++ (Although you must keep
pointers
in your mind while programming).
Unreal Engine 4 is incredibly powerful and faster when dealing with Dynamic Lights. If you have used UDK then i dont have to tell what happens when you throw hundreds of dynamic lights. But in UE4 (since it is deferred shading) it can handle "
thousands
" of dynamic lights perfectly.
But i haven't yet talked about the two things i really liked in Unreal Engine 4. They are "
Asynchronous Light Building
" and "
Particles
".
Asynchronous Light Building
:
To put simply, light building now works in the background and while the engine is doing the light building, you can keep on playing inside the editor. Once it is finished engine will ask if you want to keep it or discard. If you choose to apply, then static lighting is applied. If you are wondering if SVOGI (realtime GI) is included then sorry. Unreal Engine 4 still uses Lightmass system. But before you get that frowny face let me say that even if SVOGI is not included, there are other ways to simulate that effect.
Particles
:
Particles have been greatly improved in Unreal Engine 4. We now have high-density GPU particles with collision and dynamic particle lights. Dynamic Particle Lights are a great improvement and can add a lot to your scene. For example you can have the gun muzzle flash cast particle lights which gives a far more realistic look than what we see in UDK.
More info and more screenshots on my blog:
http://unrealxeditor.wordpress.com/
Video: Unreal Engine 4 Blueprints + Lights + Particles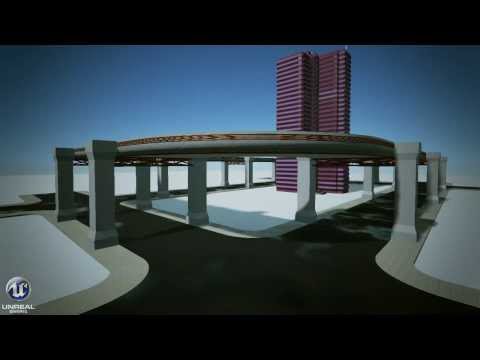 Two wallpapers i made. Click for full size.
[SHOT]http://img189.imageshack.us/img189/1702/r8w4.jpg[/SHOT]
[SHOT]http://img17.imageshack.us/img17/8290/ng47.jpg[/SHOT]