hello
not really a tutorial this time, more of a heres this to play with if you want.
i know there is probably not much chance of making a minecraft style game with udk, nevertheless i was curious to see how far you can go with it.
the answer... a 16x16x16 block, thats about the limit before you notice a drop in performance, much more than that and it crashes.
you can spawn many more 'blocks' if you have them spawning on a timer, so they are not all spawning at the same time, but it still drops frames all over the place.
and you could do things like turn off the collision of blocks you cant see, but its not going to get much better so i stopped messing.
so having no real use for this script i thaught i would give it out so anyone can do what they want with it.
1. place a Grid3D_Spawner on a map
2. double click or f4 to open its properties
3. select a static mesh in the browser, click the green arrow next to CubeMesh
4. press play
*Dont forget to give it a static mesh in the editor, i use a 50x50 cube in the video.
the vid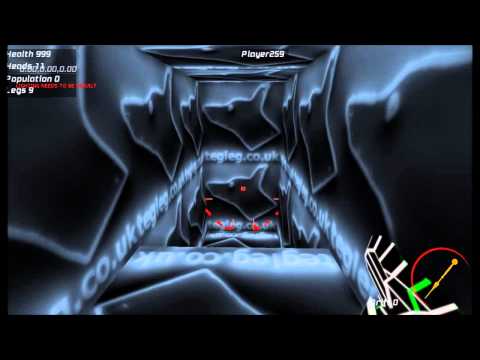 the scripts
Code:
class Grid3D_Spawner extends Actor
ClassGroup(Teg)
Placeable;

/** Normal editor sprite */
var const transient SpriteComponent GoodSprite;
/** Used to draw bad collision intersection in editor */
var const transient SpriteComponent BadSprite;

// size of the cube model in uu's
var() int CubeSize;
// size of grid
var() int GridSize;
//the static mesh to use
var() StaticMesh CubeMesh;

var vector Loc;
var int X, Y, Z;

simulated function PostBeginPlay()
{
  super.PostBeginPlay();
  
  //get the initial location to start from
  Loc = Location;
  MakeGrid();
}

function MakeGrid()
{
  for(Z=0;Z<GridSize;Z++)
  {
  MakeLayer();

  Loc.X = Location.X;
  Loc.Y = Location.Y;
  Loc.Z -= CubeSize;
  }
}

function MakeLayer()
{

  for(Y=0;Y<GridSize;Y++)
  {
  SpawnRow();
//move for the next row
  Loc.Y += CubeSize;
  }
}

function SpawnRow()
{
  local Grid_Block Wall;

  for(X=0;X<GridSize;X++)
  {
      //spawn the block
      Wall = Spawn(class'Grid_Block',,,Loc, Rotation);

      //give it a mesh
      if (CubeMesh != None)
      {
        Wall.BaseMesh.SetStaticMesh(CubeMesh);
      }
    }
    //move for the next block
    Loc.X += CubeSize;
  }
  //reset for the next row
  X = 0;
  Loc.X = Location.X;
}

defaultproperties
{
	Begin Object Class=SpriteComponent Name=Sprite
		Sprite=Texture2D'TegSprites.traficspawner_tex'
		HiddenGame=true
		HiddenEditor=false
		AlwaysLoadOnClient=False
		AlwaysLoadOnServer=False
	End Object
	Components.Add(Sprite)
	GoodSprite=Sprite

	Begin Object Class=SpriteComponent Name=Sprite2
		Sprite=Texture2D'EditorResources.Bad'
		HiddenGame=true
		HiddenEditor=true
		AlwaysLoadOnClient=False
		AlwaysLoadOnServer=False
		Scale=0.5
	End Object
	Components.Add(Sprite2)
	BadSprite=Sprite2

	Begin Object Class=ArrowComponent Name=Arrow
		ArrowColor=(R=150,G=200,B=255)
		ArrowSize=3.0
		bTreatAsASprite=True
		HiddenGame=true
		AlwaysLoadOnClient=False
		AlwaysLoadOnServer=False
	End Object
	Components.Add(Arrow)

        begin object class=CylinderComponent Name=CollisionCylinder
		CollisionHeight=64
		CollisionRadius=6000
		HiddenEditor=false
                CollideActors=false
	end object
	CollisionComponent=CollisionCylinder
	Components.Add(CollisionCylinder)

    CollisionType=COLLIDE_TouchAll

    bCollideWhenPlacing=true
    bEdShouldSnap=true

    CubeSize=50
    GridSize=16
    Chance=6
}
Code:
//this is the block actor that is spawned by Grid3D_Spawner
class Grid_Block extends Actor;

var const editconst LightEnvironmentComponent LightEnvironment;
var StaticMeshComponent BaseMesh;

var int Health;

event TakeDamage(int DamageAmount, Controller EventInstigator, vector HitLocation, vector Momentum, class<DamageType> DamageType, optional TraceHitInfo HitInfo, optional Actor DamageCauser)
{
   //take health if damaged
   Health -= DamageAmount;
   if (Health < 0)Destroy();
}

DefaultProperties
{
    Health=30

    bCollideActors=true
	Begin Object Class=DynamicLightEnvironmentComponent Name=MyLightEnvironment
		bEnabled=TRUE
	End Object
	Components.Add(MyLightEnvironment)

	begin object class=StaticMeshComponent Name=BaseMesh
	LightEnvironment=MyLightEnvironment
    end object
    Components.Add(BaseMesh)
    BaseMesh=BaseMesh

    CollisionComponent=BaseMesh

	bBlockActors=true
	bGameRelevant=true
}