hello
heres a 6 wheeled vehicle to get you started making your own
this is a very ruff model because im just testing ideas atm while im familiarising myself with the whole skeleton/physics thing
the file names = 'UTGame' for udk march, 'UDKGame' for udk april.
im using the march release.
put the files in these folders:
VH_BubbleCar.upk - UTGame/Content/Vehicles
UTVehicle_BubbleCar.uc - Development\Src\UTGame\Classes
UTVehicleBubbleCarWheel.uc - Development\Src\UTGame\Classes
UTVehicleFactory_BubbleCar - Development\Src\UTGameContent\Classes
UTVehicle_BubbleCar_Content - Development\Src\UTGameContent\Classes
there are no textures/materials cos im rubbish at that.
the car model was downloaded from a random free model site.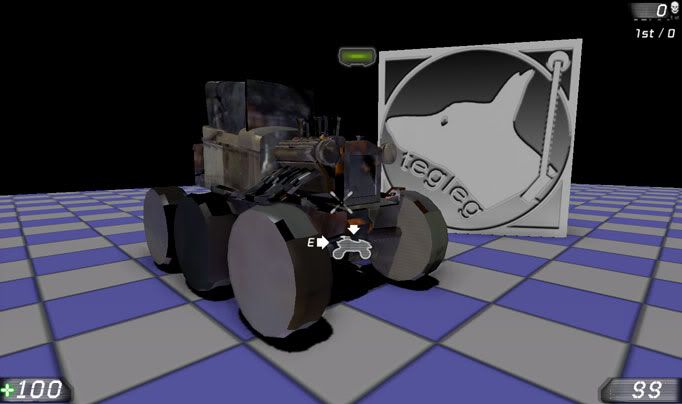 *you might want to move the 'GunViewSocket' up a bit, i had it low down for testing, also the other ones will need tweaking*
udk content browser, double click the mesh
in the window that opens, menu > mesh > socket manager
to make your own:
UDK:
in the udk content browser make a copy of the mesh and assets into a new package and rename ie. VH_YourCar
then import your new model overwriting the old one (this way you dont have to make all the sockets again)
make copies of all the script files, not forgetting to reneame the class to the same as the file name
ei. file = UTVehicle_YourCar.uc
class = UTVehicle_YourCar
3ds Max:
open the 3ds file
delete the car model and import your own (seperate body, wheels and suspension)
add skin modifiers to all the bits
add bones:
body - Main_Root
wheels - F_R_Tire, M_R_Tire, R_R_Tire...
suspension - F_L_Axle....
add uvwmaping to it all
export actorx
see geodavs tutorials for more info on that
have fun
Download Link:
http://rapidshare.com/files/357931717/VH_BubbleCar.zip
any questions/problems?