Dear Community,
In this tutorial I am providing you with a video of how to import multiple animations from a single timeline in 3ds Max.
Features and Advantages:
1. Using the tool presented in this video (created originally by Epic and updated for 2013 max by awesome person named Gildor), you can
specify multiple exact frame ranges
from your animation timeline to export as separate sequences!
2. Using the tool, you do not have to select your skeleton, you just have to open the max/maya file containing your animations.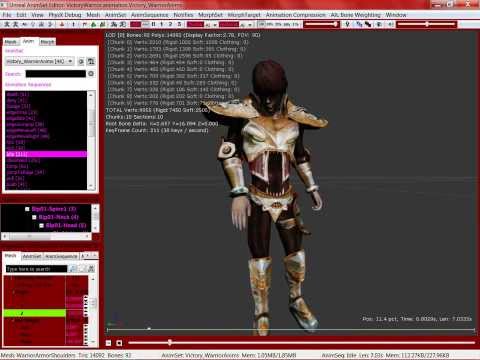 ~~~
Why Not Use FBX?
Review a thread such as this to see the issue with multiple animations + FBX + 3ds max
how to import multiple animations from 3ds max
If you are trying to export multiple animations in one timeline as an FBX using 3ds max you will probably find it very hard!
When I imported the .FBX file for the model you see in the video, which I obtained from
3dfoin
, I ended up with a single animation sequences that was 90 seconds long and contained 2700+ frames.
~~~
Obtaining the ActorX plugin
You can download the Actorx.dlu plugin here if you use 3ds max or Maya 2012/2013:
Gildor's Download Page
http://www.gildor.org/downloads
If you have an older version of 3dsmax/Maya, just look in your install/binaries/actorX directory.
~~~
But Rama, ActorX Is Deprecated
1. If ActorX was so utterly deprecated that no one was quietly using it for issues such as multiple animation importing,
then Epic would not be happily providing the ActorX.dlu plugins with every single UDK version in the binaries/actorX directory, for every single version of Maya/Max up to 2011
2. And ActorX workflow is actually quite fast for a large number of anims, I imported 48 different animation sequences in about 20 min!
3. And I can actually get my character in-game with all the 48 animations created by the wonderful artists at
3dfoin
!
~~~
Special thanks to Gildor
Gildor took it upon himself to re-write the Epic ActorX plugin code to work with the new underlying code structure of 3ds Max 2013
Thank you Gildor!
~~~
Summary
Now you can easily export specific frame ranges from your animation sequences and import them into UDK!
Enjoy!
Rama
PS:
UDN Tutorial For 3ds Max ActorX Plugin
UDN ActorX Tutorial
PSS: Again the model you see in this video is not my own, I licensed it from
3dfoin