Hey there everyone.
Just got the UDK package about 2 weeks ago and have viewed almost all the video tutorials. So I'm semi-familiar with a lot of the engine and how it works.
I'm a Maya user, 2009. I've got a concept that I'd love to flush out using the Unreal Engine, and so far I'm liking it's capabilities.
However, I've run into one of a few problems: custom collision detection (imported with in one .ase package from Maya). I downloaded ActorX and I've successfully exported multiple models, both static and skeletal mesh, including all their materials. Now I've looked through many forums (including Epic forums) and the UDK documentation looking for my answer regarding custom collision models.
My problem: I've imported a simple door (picture below) with a collision model around it (just a rectangle). So I've followed the instructions of re-naming the collision model "UCX_LeftDoor" and the actual mesh "LeftDoor" (you'll be viewing this mesh). Both contain the same material in order to limit the amount of material slots created upon import.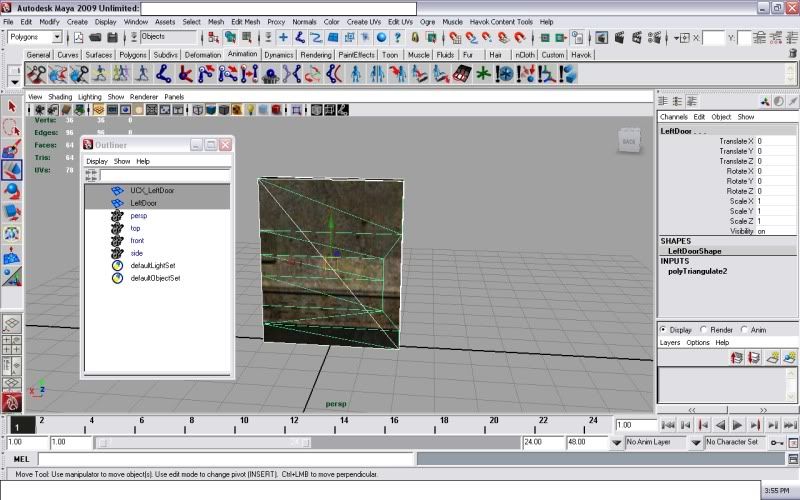 Here were the options I selected for the exporter. This is something I'm not really familiar with either. I've selected options and I haven't selected options before in order to test what they do. The only option I've found to change anything is the "Consolidate Geometry" option. I've found that if I turn that on, my "UCX_LeftDoor" is not converted to a collision model, but is presented as an actual mesh. So I leave that checked off.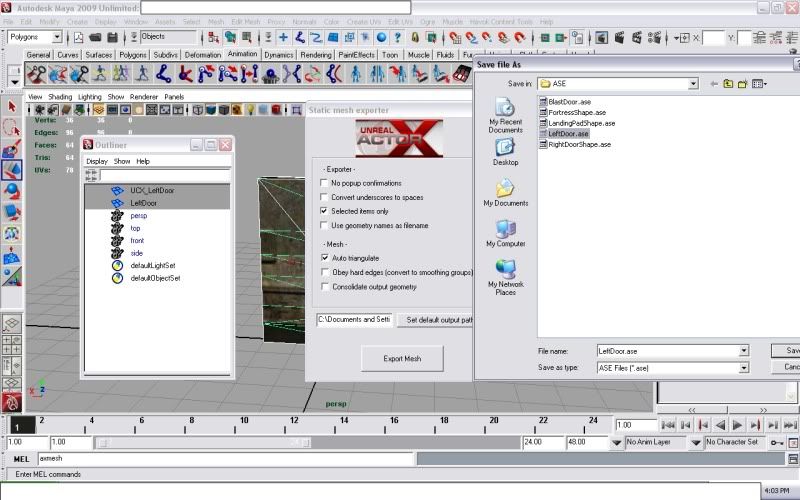 I get the status message that the export was successful: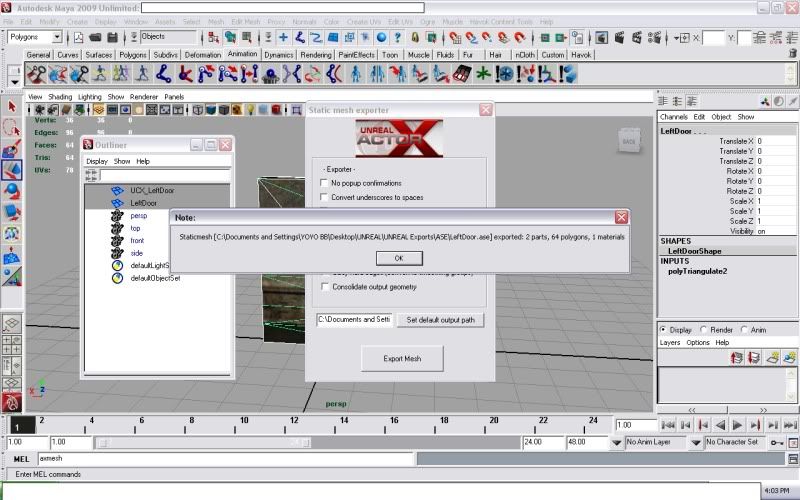 When I click on import in the Content Browser, it asks me to select the .ASE file and then to specify where the mesh should be placed within the Content Browser. I have to turn on "One Convex per UCXObject," otherwise the no collision seems to import in.
Another warning I don't seem to understand is this next one:
It explains that my ratio of verts exceed the tris or something like that. I don't understand it, but it doesn't seem to affect anything on my mesh or my importing process. Can anyone explain why that warning occurs?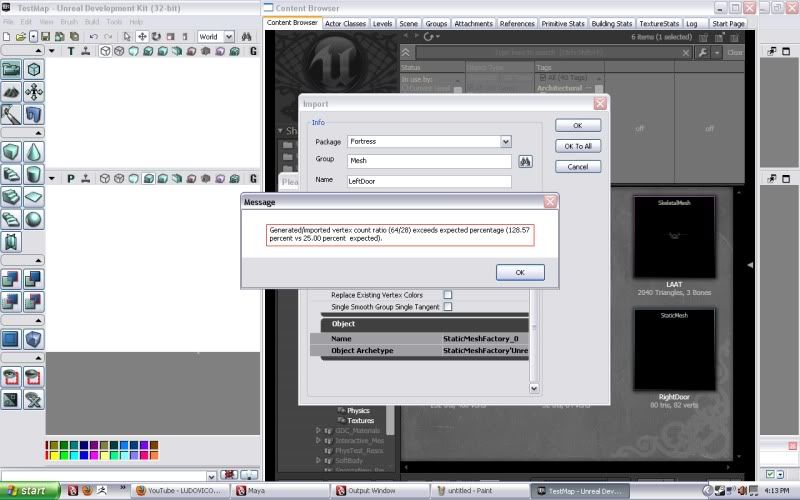 So finally, I get the mesh inside UDK and I open it up using the Static Mesh Editor and everything looks good (I applied the materials as well). I noticed that the "LeftDoor" seems to be by itself meaning that the collision must've been converted (which I thought was good), and then to confirm that, I clicked on "View collision" and it says that my collision mesh is now labeled as a collision primitive. However, I don't see any colored wireframe that's supposed to represent the collision model as well as surround the mesh.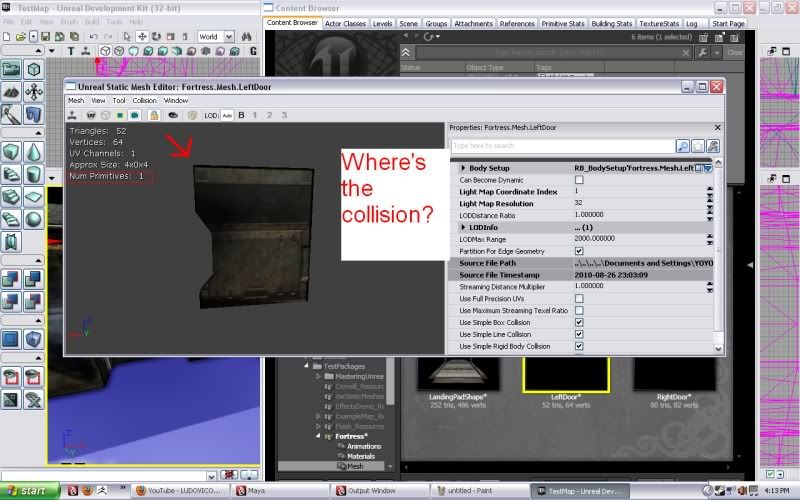 When I place the door in the editor, I have to scale it up by about 100 units (uniform scale) due to the use of Centimeters in Maya. And everything still looks good, however if I hit the hotkey 'c' to view all collisions in the game, the door seems to have no collision, even though it has 1 primitive assigned to it. When I re-build the level and play the game, my character walks right through it as if it had no collision, BUT EVERYTHING else in the game can collide with it. It can be picked up with the physics weapon, tossed into the vehicles I've set up, receive bullets, but will not collide with my character.
ANY help would be wonderful! I'm really trying to make strides to get a game developed, and this is something that needs to be solved. Realistic collision detection is going to be my main focus. If there are any other methods besides building it in Maya, I'd love to know them.
Thank you very much in advance!