Edit: I just realized that maybe this would belong in the Programming section? If so, my apologies. I just saw materials be discussed in this subforum and thought this would be the place for it.
Hey all. I'm currently building a small prototype, which unfortunately requires the use of a fairly realistic ocean. I've decided to try and tackle that scary-looking gerstner equation with a big specification, I want to try and control the direction and speed of the waves with a Wind actor placed in the level. That part was simple enough, and the equation looks fine in Material Editor*, but the effect looks... well, compared to the few examples I've seen on youtube, it looks almost nothing like it.
* I'm fairly certain that I've messed up awfully somewhere here.
Here's what it looks like, currently.
[shot]http://gyazo.com/2be644b3cde658a3fc07bf0289139345.png[/shot]
(the wave pans along whichever direction the wind actor is pointing)
And here's what it should look like, in practice: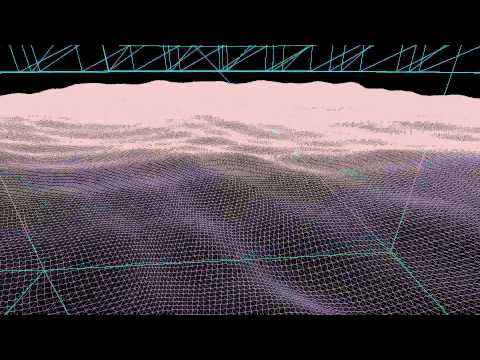 If I understand the equation correctly, It's based off of adding more waves to achieve better results. Of course, this is me talking out of my butt, so I'm probably wrong, but assuming I'm correct, I've added more samples, and the only change is that I need to lower the amplitude to stop it from being so high.
I'm a bit weary about releasing my material, but hey, it doesn't work anyway, so here's what it looks like with a single wave sample:
[shot]http://gyazo.com/e7bed1bb961b73eccaedcf510357a428.png[/shot]
That's plugged into the World position offset, I've just got a blue colour in the diffuse channel. As you can see, I've separated the material into material functions, to save on the clutter when I add the wave samples together.
This is what the MF_GrestnerWave_Sigma_X material function looks like:
[shot]http://gyazo.com/03d00fc11d5afbf0f2298aafc2d95ac6.png[/shot]
The MF_GrestnerWave_Sigma_Y function is exactly the same except the Green channel is being pulled from the mask over the normalized wind vector.
This is how the MF_GrestnerWave_Sigma_T function looks:
[shot]http://gyazo.com/1de9330927fdc4652087a0f84ca2051a.png[/shot]
That's the main functions. Here are how the others look at the moment:
GerstnerWave_WaveFrequency_w
[shot]http://gyazo.com/02d07e268c6519df5dcc8a8e28221aec.png[/shot]
And finally, the MF_GerstnerWave_WaveSpeed_squigglyP (The phase-constant for the Wave Speed)
[shot]http://gyazo.com/4726e9726d57dc385a69e97a4e13461c.png[/shot]
For completions sake, this is the equation I've been using:
[shot]http://http.developer.nvidia.com/GPUGems/elementLinks/013equ01.jpg[/shot]
So yeah, if anyone would be kind enough to tell me exactly where I screwed up, it would be much appreciated. Thanks!