I'm quite descriptive and specific in this thread, so please make sure you read and understand the type of map I'm making, and the various other elements before replying.
To start with I will include an image of the said terrain, and a brief description of what you're looking at.
In this image, you see the entire terrain. The final version is separated into pieces before importation into UDK as the total exceeds 50,000 tris. The total amount of
tris
(not quads/polys) used in this render before any optimisation is 384,000 roughly.
This isn't just a mere displacement on a plane with many segments. There are many features, such as the cavern that has been highlighted inside the red box. Many other caverns do exist and contribute to the amount of tris used.
Here is an image from inside the cavern from an older build of UDK done some time ago.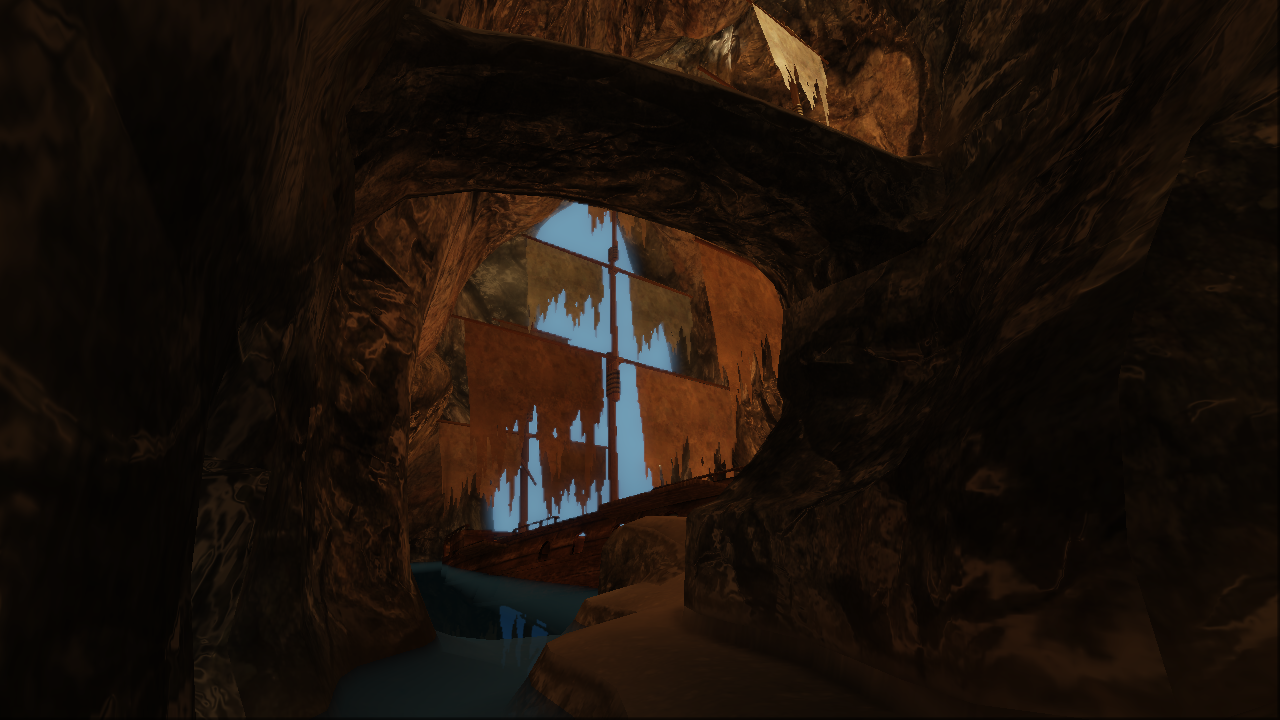 As you may have noticed from the render in 3DS Max, the vertex points follow a very uniform grid like you'd expect to see from something like game engine terrain.
Since some areas like the ocean won't be playable or even visible, I can optimise by using very large tris which reduce the entire meshes together to 160,000 tris.. keeping the verts either entirely unchanged or only somewhat where need be.. such as vertex colouring, or smoothing in the playable areas.
Rendering quads/tris. Static mesh vs Landscape.
I might be wrong, but I don't think the terrain at 160,000 tris is going to be harming performance, even after remaining details are added (buildings, trees, etc).
Considering that cavern areas can be unloaded when outside, and perhaps vice versa.. if needed.
The scale of the static mesh from x to y is almost 100% identical to a landscape (not legacy terrain) that follows the standard 255x255 scale, which is quite small. So I was able to import a heightmap that was created from this mesh, capturing all that the displacement side of things can do for the exterior.
Whilst in-game, I went into wireframe mode, and I didn't see any optimisation benefits with regards to the landscape's automated LOD abilities. My map is so small, that the LOD only appears to kick in after I've travelled far outside the maps intended play area, infact outside of the mesh itself.
I know there are probably more benefits to landscape than just its ability to LOD distant terrain the way it does, but it kind of contradicts what a friend of mine complained about, when he said my static mesh would be "too many raw polygons". If the LODing isn't kicking in with the landscape because the map itself is too small for the distance needed, then that means I'm still rendering roughly the same amount of geometry that I would otherwise be rendering with a static mesh.
Maybe it renders better though. Maybe 1 quad on landscape is more optimised than static mesh, but I have my doubts and don't know enough to conclude anything more on that.
So considering those points above; brief re-hash, that I don't appear to see any optimisation kicking in whilst in the playable areas in the landscape version, and considering that with the static mesh, I have complete freedom with resolution and topology.. Which is the best option when it comes to rendering out quads/tris?
I'd like to obviously use what is best for the type of map, and the scale, and also the kind of quality/detail that I'd like to see in my terrain.
The map is intended to be a multiplayer map for a melee combat game. Most of the areas are not playable, and if I took the static mesh route.. many of the non visible areas would be either deleted or heavily optimised.
What is the limit of detail texturing between static mesh and landscape?
Now I'm not sure how correct I am on this next subject, so I hope to be enlightened about this. To my knowledge, if I've got this correct, the landscape allows more than just 4 detail textures to be painted on a single landscape object.
With a static mesh, I wouldn't know how to use more than 4 detail maps, cause I'm pretty sure the static mesh can't do that, but maybe I'm wrong.
How do you scale landscape?
But one issue I do have with the landscape terrain is that it doesn't appear to allow very much customisation with dimensions outside of the actual heightmap. The actual dimensions used apparently are specified by the heightmap itself
(and when I try to use different dimensions from the heightmap, it won't work)
.
This, perhaps from my ignorance, appears to be the same situation with height. I see absolutely no controls to specify what the max height aka what pure white in the heightmap would mean in terms of height. So when I import the heightmap, I end up with a terrain thats EXTREMELY stretched in its height.
Due to my lack of being able to find any other controls to adjust the height of the import, other than perhaps darkening the heightmap itself.. I was forced to use the scale tool. To avoid any confusion about what scale tool, I mean specifically this one highlighted in the image below.
Does the use of this scale tool to adjust the landscape, have any consequences? If so, what are they, and what are my alternatives to using this tool to adjust the XYZ dimensions of my landscape?