2012 Update.
Here is the final video: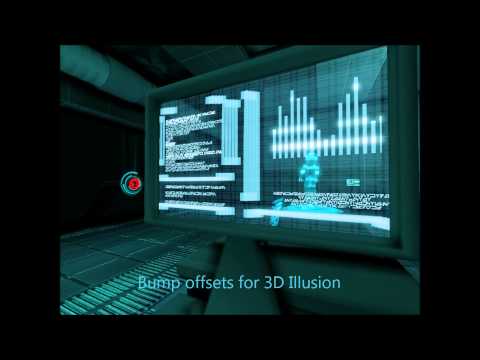 (Now for the beginning of the thread)
Hello folks!
I've finally had the time to get onto the Epic forums and customise my profile and join the growing Epic community! I'm hoping to share my creation skills among other people as well as learn new ones.
So I'm a learning "general" 3D artist that works on characters and environments, and I use a combination of 3Ds Max, Zbrush, photoshop and Game Engines (UDK and Cryengine2). My workflow and pipelines mainly follow industry standards (Or so I believe
)
I'm embarking on a self taught project along with my University work in the UK and it will be a project based solely in UDK and it will be the creation of complex holographic shaders using the available tools and features of UDK.
What inspired me in this project? - Science fiction mainly got me hooked into this project, especially with the release of recent titles such as Mass Effect 2, Iron Man 2 and Avatar which all feature super awesome looking holograms.
I'm hoping to recreate some of these effects into a custom shader in the UDK material editor, which can then be used in conjunction with another material (or 3D mesh) and even feature some dynamic elements such as movement and activation with the help of kismet.
I'm currently working on a 3D environment to display these holograms as shown below. (Some fans may notice the similarities from this and the beginning of Mass Effect 2) - The environment is far from finished but the modelling is almost complete. I'm still learning much into the world of texturing which currently is my weakest skill. (Any help, critique and advice would be awesome)
Any help is always appreciated as well as critique on my work which always helps improve my skill levels. I'm mainly going to be keeping my eyes open on different shader techniques achievable through the material editor in UDK.
Scott