Hi all,
I did the outdoor water tutorial found at -->
http://www.hourences.com/book/tutorialsue3water.htm
It gave me a great result considering I'm somewhat new to this whole thing, and thank you hourences.com for this great tutorial. KazeoHin's water looks a hell of a lot better, from what I can see. Unfortunately, the above mentioned tutorial is the only one I found that actually tells/shows you how to make it, not just drool at the end result
I understand the basics - pan, add, multiply, texture coordinate, etc., but once it gets into math, like power, clamp, vector transform, camera vectors, or linking specific normal channels and why, I get lost.
Now onto my topic. I am using the material I have built with the above mentioned tutorial, but I have swapped my own sky dome texture into it. I have a night scene, so bright sunset sky just doesn't work in my case. I get a nice reflection of my sky in the water, but I would like to push the material even further and get the shoreline reflecting in the water.
I have done the fluids tutorials that are provided on this site (for a smaller pond within my level, not pertaining to this big body of water under question), but the cube map reflection looks absolutely horrible. I'm fairly certain I followed the tutorial correctly and yet, this is what the reflection looks like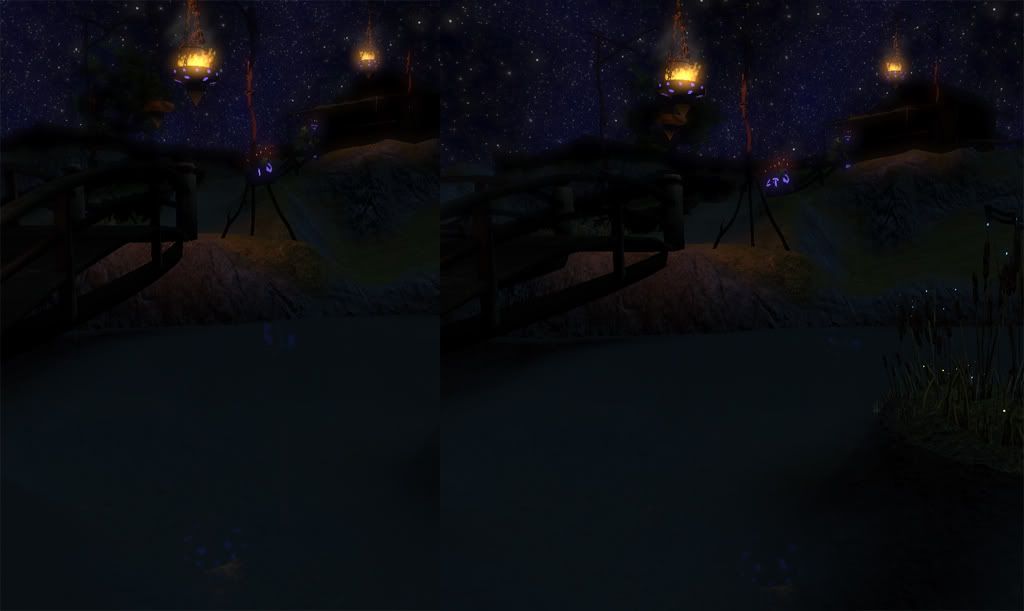 sorry, the reflection is pretty dim, but I think you can see the difference. I take two steps to the right and the reflection stays in the same spot at the same angle in the water, like it is reflecting something infinitely far away. I would like some help on how to make this right, since a reflection like that... well... I might as well not have any reflection at all then.
Any help would be greatly appreciated,
Thanks,
Gera