Hey guys.
Im working on a little piece for my portfolio, an environment specifically, and a walkway within the center of the room is a grating, complete with lighting coming from underneath.
My problem however is a: TRYING TO decide what Lighting to use, See...A direction Light makes sense whilst at the same time a few spotlights make sense too... I'd like the light from the grating to come up but not actually LEAVE the grating area..if that makse sense...as in I plan on adding fog to the light so that you can see the light as it comes up ( god...i suck at explaining these things).
her is an image of the scene (without textures as I didnt bother to turn them on when i took it).
The room is essentially this shape: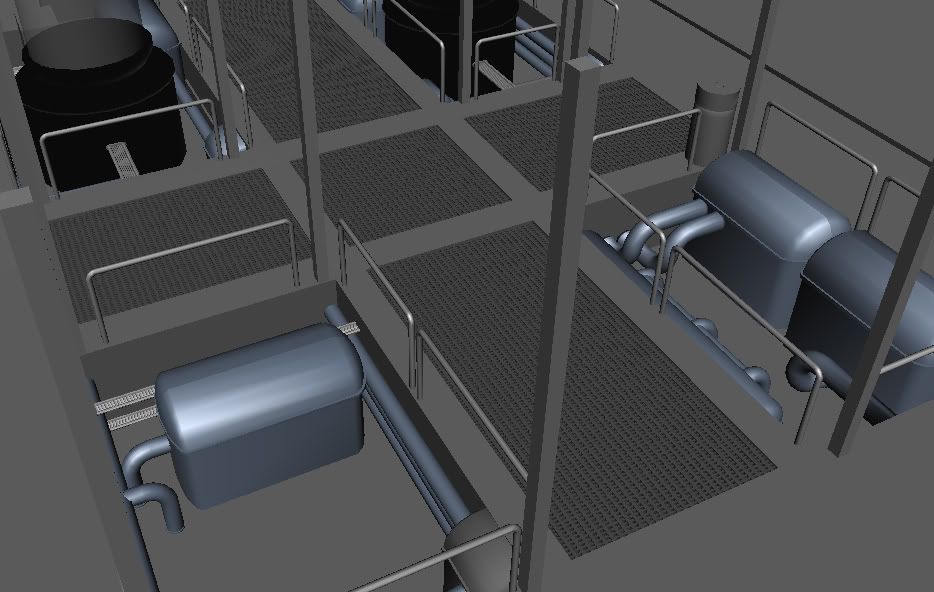 Unfortunatly If i put say four lights, one in the center, one at either ends of the cross then its just way too Bright, and using a directional light will create a light going upwards all the way along the room, as the dips in the floor (both underneath the grating and also in the area's where the test tubes are...if that image shows that well) are all the same depth, I can always just make the ones under the grating deeper so that i get around this problem, though im sure there must be a better way of doing this with the lighting alone.
Anyone know of the best way to achieve the result im after at all?
I appologise for my inability to explain things very well.