Update 27 December 2015: Squad menu almost done. Made some animated .gifs to show off progress on that, plus some more combat.
Update 14 November 2015: Slimes and goblins added. Working on lighting and more variable terrain.
Update 7 November 2015: New pixelly backgrounds tie the look of the game together better, game now takes height into account during movement.
Update 18 October 2015: New logo. Is it too close to someone else's logo? Any advice?
Update 13 October 2015: New combat video. This video doesn't suck. (You gotta use Fraps, I learned. Camtasia is not for recording gameplay.)
Update 21 August 2015: Making progress with a new combat demo level, plus some lighting tricks I learned from coldscooter.
Update 30 July 2015: New gif (see latest entry for link to animated version) showing new combat engine.
Update 21 June 2015: New screenshots showing off pixel art, character portraits.
Update 22 May 2015: Development still ongoing. Check out the website, dev blog, and new screen shots. Kickstarter will relaunch in the coming months.
Update 3 February 2015: And a Kickstarter and Greenlight campaign! Come on guys, just $15 for a copy of the game and it's costs you nothing to vote on Greenlight! Help one of your fellow UDKers out. And please tell your friends! Thanks everyone. More updates to follow.
https://www.kickstarter.com/projects.../himeko-sutori
http://steamcommunity.com/sharedfile.../?id=385717966
Update 31 January 2015: New video showing combat and AI pathfinding. Take a look at bottom entry for the latest video.
Update 17 January 2015: New video showing click-to-move, A* pathfinding algorithm, squad formation movement, and new 2D art assets.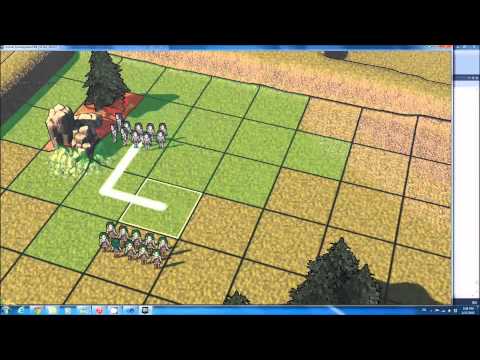 Update 12 January 2015: Combat system teaser screenshot. Video to come in the next week or two if all goes well...
Update 3 December 2014: New video showing oudoor level, transitions into and out of buildings, plus hiring new soldiers.
Update 20 November 2014: New video uploaded. See below.
Here is my very first public announcement of Himeko Sutori. I could tell you all that it's a story-driven, turn-based, tactical JRPG, following the lives of three young women in a time of turmoil, where anyone--even your own most reliable units--can betray you. But all that wouldn't mean anything yet without many lines of code to back it up. So here are some screenshots. I would say that the whole engine is about half finished. As of right now, I'm working on menus and dialog trees. After that I need to flesh out the combat system, then I'll work on the class/level-up system. After I have something approaching a complete game engine, I'll start cranking out the content. For now though, enjoy the screenshots.