Hey everyone,
Some guys that I help with their game every now and then asked me for an inventory screen, and I've decided to make a Starter Kit off it instead, as I know this kind of Inventory feature is a recurrent question and would be a nice addition for the community.
And it's now finished and ready for download!
Here's how it looks: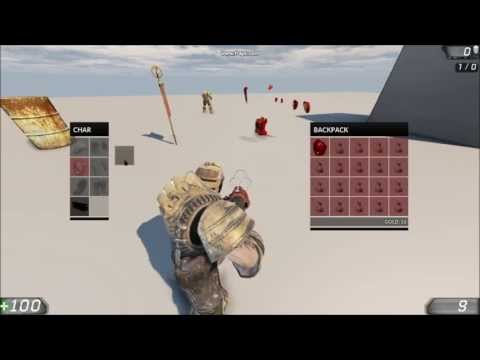 Features:
A custom archetypable Inventory class where you can set its mesh, item/armor type, stats, etc
A custom archetypable Weapon class where you can set its mesh, weapon type, stats, etc
A custom ItemPickup class, used for both placing items/weapons in the world and dropping them off dying enemies. This class is quite simple and points to the Inventory/Weapon archetype
An InventoryManager class that handles the inventory spaces (that limits the amount of items you can pick up) as well as the equipped items
A scaleform inventory screen (the flair of it all!), with draggable Char and Backpack windows
Char window has a Weapon slot as well as 6 armor slots
Equipping/unequipping at the Char weapon slot actually changes the character's weapon
Armor and Weapons work per-slot (like the Scaleform Inventory demo), so a weapon can only go in the Weapon slot, or in the backpack spaces. Same for every Armor slot type
Unique Item icons, defined per-item in the editor
Objects are droppable back to the world
Custom 'Gold' item that when picked up adds up to the character's Gold amount
Armor attachment system
Looting other Characters
Looting other Characters' gold
Looting containers
Regular weapon switching is disabled
Placeable Pawns (NPCs) can be assigned their inventory items individually in the editor
It extends the UT* classes because I wanted an easy template to have a character and a camera. however making it extend the base classes shouldn't be too hard
there's just one drawback: this is not the inventory system I use in my game, so once I finish it there will not be any future updates/additions, except for any important bug fixing.
get it here: [
RPG Inventory Starter Kit at my blog
]
[edit: updated it to v1.1 - make sure you get the new one as it contains at least one crucial fix]
note: I'm keeping this thread with info as it's now meant to serve to answer questions and provide support