Hi,
Edit: It's out : http://forums.epicgames.com/threads/...-Adventure-Kit
We (my friend and I) are working on a collection of action adventure game mechanics which we plan to release as a starterkit once it is done.
Originally we planned to only post progress on youtube, but apparently a lot of people are already quite interested. Since we have answered
the same questions via private messages several times I opened this thread to work as a FAQ and WIP at the same time.
One of the mechanics is Ledge Climbing: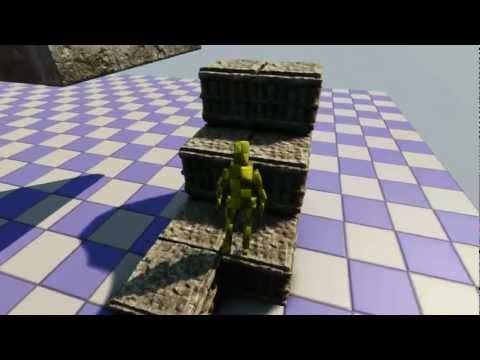 The playlist and the rest of the wip videos can be found here:
WIP Video Playlist
Q: How do you detect ledges?
A: I wrote a custom SplineActor class and do a trace to find the closest spline point
Q: What physics mode are you using for ledge climbing?
A: PHYS_Interpolating, I also use RootMotion to make the climbing speed precise
Q: Do you use volumes?
A: Only for triggers, the actual movement "zones" are all splines, but we may use a combination of both to get better results
Q: Will you release tutorials?
A: We want to, but this will be decided once the project is released
Q: When will you release?
A: "It is done when it is done" This is our hobby, not our job. Currently the project is in a rapid prototyping phase. Once all the planned mechanics are implemented we will start to plan out how to actually write usable code
Q: What mechanics are planned?
A: Ledge climbing, ledge balancing, dodging, walking in tight spaces, wall climbing (Tomb Raider/Darksiders style, not Assassins Creed), wall jumping, vaulting, surfing/sliding, levers, buttons, pushable/pullable items/boxes and maybe a few other things but do not expect anything major.
Q: Why don't you make better animations/models?
A: First, this is a prototype and second this is close to my graphical limit, I am a programmer, not a graphics designer.
Q: Why don't you try and sync your animations with your pawn's actions better?
A: Again, this is just a prototype, only the necessary proof of concept things are implemented.
Comments and Critics are welcomed, hope you like it so far.
greetings
FTC